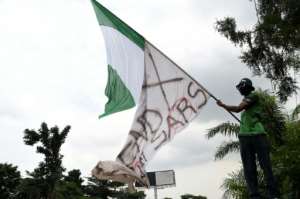 The recent rebuttal by the Nigeria Minister for Information, Lai Mohammed, boldly detesting the report by the Lagos State Judicial Panel of Inquiry on Restitution for Victims of SARS Related Abuses regarding shootings by the Nigeria Army that led to the death and injuries of unarmed civilians has again made apparent the federal Government's nonchalance over the life of its citizens and addressing them as a 'lynch mob' with 'social media tales of moonlight.'
According to a media report, there were 48 casualties after the army opened fire on the protesters. Over time, Nigerians started losing confidence in its 4th Republic or democracy when the Jonathan-led administration could not handle Insecurity issues that led to the loss of lives and properties. Buhari promising 'change' summarised the preoccupations that brought in the current administration, who became tardy in protecting the lives of its citizens despite numerous grants and military aids.
President Buhari constantly criticised his predecessor and protested to demonstrate his grievances over a failing system. Still, protests under his regime were met with reprisal. They mobilised armed men to terrorise and intimidate people into forfeiting their rights of peaceful demonstration.
#EndSars was more than an outcry of youths who were lamenting the torture, human rights abuses, dehumanisation, maiming, extortions, and possibly homicide at the hands of operatives of a rogue police unit, the Special Anti-Robbery Squad (SARS). It was a public call for total re-innovation in its economic, political, and social atmosphere.
Anyone who came out to publicly criticise the federal Government's policies or staged a peaceful demonstration was either detained or inextricably wedged from advancing the interests of the ordinary people. The leader of #RevolutionNow, Omoyele Sowore, is still restricted to the confines of Abuja. Sunday Igboho, who agitated for a new Republic of Oduduwa owing to the hardship of the country's multinational coexistence, has been trapped in the cell of Benin Republic after the Federal Government invaded his house to arrest him, and he tried to escape.
The last peaceful mass movement, #EndSars, surpassed expectations and gained popularity globally but was trampled by a dark shooting spree at Lekki protest ground on the 20th of October 2020. While some protesters remain in custody, there's been no movement for justice for the unjust killings but rather a dissipation of energy by the Minister for Information in disclaiming what several pieces of evidence had confirmed.
When the protesters were dispersed after the violent intervention of the armed men, Nigerians waited for the President, Muhammadu Buhari, to address the shambling system but instead disbanded SARS without addressing the problems they created. He proceeded with a bewildering statement that the protesters wanted to remove him. Now, Nigerians fear peaceful demonstrations and have dubbed them as 'suicidal missions.'
According to the Global Terrorism Index (GTI) report, Nigeria has been ranked third most terrorised globally. With news of frequent kidnappings and insecurity, Nigeria has gained infamy over its low concern for the lives of residents. With more than 223,000 active personnel, the Nigerian Army, according to Global Firepower, is the fourth-most powerful military in Africa and ranked 35th on its list internationally.
But rather than focusing on administering justice and protecting its citizens' lives, the Nigerian Government flexes its muscles against unarmed critics and criticises past governments for their present undoings. It gets military aid from the World Bank, U. S., U. K, among others. Still, it constantly fails to meet expectations of eradicating banditry and Boko Haram terrorism.
Most Nigerians would objectively admit that the concern for their lives by their Government is sub-par. The Nigerian Government should focus on improving the lives of its citizens and employ a more libertarian approach in addressing problems. If there's an enabling environment for economic growth and stability, a peaceful society wouldn't need to be demanded. Even at that, there shouldn't be any need to send military men to maltreat innocent civilians and deprive them of their human rights.
Citizens want the best of lives — justice and fairness. Still, the President has yet to apologise to the country and take responsibility for the innocent lives lost and injured victims. This does not augur well with an average Nigerian with steaming dissatisfactions while there's a consciousness of identity with the nation's flag.
Emmanuel Akin-Ademola is a writing fellow at African Liberty.