ROAD TO STARDOM: Open Letter To GFA & Mr. Ben Koffie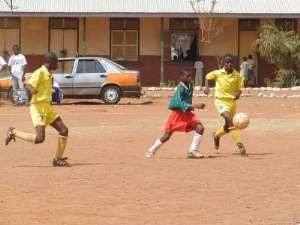 Ghana's soccer is in a nosedive since the 1980's. In late 80's and early 90's the Late Shamo Quaye and Joe Debrah raised the tempo of the local league with other skillful Ghanaian players. That same period, Abedi Pele and Tony Yeboah were in their own class of professional football. Happily, the young ones had the chance to play FIFA's organised games and brought successes. Since the local league was picking up in skills and enthusiasm and Abedi and Tony were in form, Boukhard Zies an expatriate coach at that time had a good choice to see, select and build a team. That was Ghana soccer then. That was when little doors were open for Ghanaians to play outside at ages less than 18 years. Those days are over and we know. Everybody or all soccer fans in Ghana know that we are counting on when Ghana may even be out of African Nations Cup. We pray not to see this though. There ain't much antics to stardom. It is about planning. However, I am not surprised that from Nana Butler to Alhaji Jawula and you Mr. Koffie, Ghanaians are just helpless, lost of words to describe how something is not changing. I am aware for a fact that you have been in office for a short period. One year gives enough time for people to see a plan forthcoming. I am happy of your stand for a foreign coach. I agree and stand by your reason. Our biggest trouble in our country Ghana is planning. Particularly when it is going to take us that long. We often like to have quick successes and responses to what we so dearly seek. This has been our headache and so when any new person is appointed as GFA chairman, rather than set out a plan, a long term plan on the local seen to change our soccer fortunes in some few years to come we assiduously look for a foreign coach. We have done this many years before and have not achieved any result. We have used local coaches like Sam Arday and Jones Attuquayfio and we ended up disgracefully painting their once successful coaching careers with failures. That is not the solution. Ghanaian soccer fans have moaned and cried but our planners do not heed to our calls. Until the departure of Boukhard, we never assembled any team where many of the players are from the local league. The best attempt we made was in Mali, 2002 when the team had 'experimental boys' taught to be the nucleus of 'new Black stars'. I did not believe that story. I new we simply did not have players who could help us do the best. We run away from the truth and gave the explanation that that is our team for the future. Where is that team now? Our latest usual try matches, our speciality of late did not bring these boys together; a justification that we did not have a team for Mali or we do not have any plan for progress of our team. Coaches come and go. Some go because one person in GFA did not like the face of the coach. Some go because there is no money. Some were asked to go because when we gave him players from Turkey and Russia in two months and one try match with Accra Hearts of Oak or Kotoko they went to the tournament and never reached semi-finals. Coaches after Boukhard have liked to create preparation camps outside of Ghana. Our international players are in Turkey. One in Saudi Arabia, Belgium, Holland and hopefully two in Germany. I do not often want to hear the clubs or the kind of leagues the players are in. This is because we may list very funny leagues and then the worry comes in: division 2, 3, 4 etc. Exciting players they may be leave Ghana all the time to play trial matches. Right now Charles Tailor is busy with any club in the world. Charles Tailor is perhaps our finest local player right now who cannot even fit or impress to play for any good team. Baba Armando and Lawrence Adjei were toast of the fans in our league but Baba is in Moscow and Adjei was promoted to division 2 because his team was ready to play in German's Bundesliga (the premier league of Germany) and is somebody saying all is well with Ghana soccer? I can bet on some of our local coaches being able to lead us to the greater heights. Sam Arday, Attuquayfio, Afrani and some recent retired players like Polo, Razak, Akwasi Appiah G. Alhasan, Abedi, etc can deliver the goods. I certainly know they can do it! I hate to see these people being victims of poor planning and spoiling their reputes. They have fought hard to earn that. It is for this reason that I do not want any of our local coaches and the names mentioned above to be appointed as coaches for the Black Stars. We are again going to disgrace them. We are going to spoil their records now! The Ghanaian public does not easily forgive people. Ibrahim Damba, Edward Ansah, Salifu Ansah, Coach Arday, Joe Odoi and others know this well. This is why I support a foreign coach and nothing more. We can bring in the Brazilian coach that won the 2002 World Cup, Alex Ferguson or Arsne Wenger with all our players in Turkey and the result would not change much or nothing at all. Mr. Koffie, you said the system that necessitated the hiring of a foreign coach has not change and so we still need one. That is true. The system is untouchable. It has been built over the years with one eye. No need to bend it. It will not even bend. You can try and fail. You know this. One is surprised about this system. If the man in charge of football thinks there is a system, which he cannot plan to change but to encourage the perpetuation of the system then this is where my mind searching and soliloquising about visional leaders for Ghana drives me crazy. I am offering you the following suggestions. I hope these words would be listened to and deliberated upon carefully. 1. What is GFA? Most Ghanaians following soccer know the name GFA. I am one. I really do not know what constitutes this GFA which is gradually becoming the 'Ozymandias' on our neck. It will be better if the GFA will kindly publish (please do not direct me to GFA's website, there is nothing there) the following for Ghanaians to know: A). The guidelines of appointing a GFA chairman, members and other sub-committees B). The responsibilities of the GFA chairman and other bodies associated with it. C). GFA programs and its sources of funding including short and long term goals so that we shall be able to assess the period of any GFA official. D). The relationship and activities between GFA and the Ministry of Sports. 2. Committees: There should be well structured and selected people to form regional bodies that will have specific roles to compliment the effort of GFA. These bodies should be prepared carefully and independently. For example the disciplinary committee is one body I do not like much when it comes to their decisions. Football is business today and clubs spend millions of money to invest in it. So is it in Ghana too. Presently, Osei Boateng is one fine goalkeeper for Kotoko. He has been punished not to play soccer for a year. What is that punishment? Should a club spend millions to purchase a player for him to be banned for a year? Osei demands punishment for offends but players like him should be banned for not missing so much matches to say a year. He could miss about 5/6 matches and a fine of even up to two months salary for repeated offences. It is absurd for him to be punished for a year. I wonder if any GFA member/disciplinary committee will ever invest half of his or her salary in soccer for a year and see this club not playing any much for that same year. We are not correcting Osei by that punishment but by spoiling his career for him and Ghana. James Nanor was in top form as a goalkeeper for Hearts of Oak when CAF gave him a year's punishment. He has never come back to that form again. This has a blow to Hearts and Ghana too. Players like Armah 'Senegal' and Joe Addo had same problem years ago. In Europe and elsewhere players are not punished like that. Not even Patrick Vieri who has had repeated offences in Arsenal games. Even Zinedine Zidan for intentionally stamping a friend did not have that kind of punishment. If CAF has that rule of punishment in their books for correcting a player, we have to tell CAF that it is wrong. We have not been stable enough with our plans and so like CAF kowtow and mimic any of their laws whether good or bad. CAF itself is the mother of all troubles of African football. So GFA may not be blamed much as a well-tutelage 'child' body. 3. In furtherance to the point above, I want to suggest that the disciplining committee should be a body of much independence. Presently, certain clubs like RTU and Kotoko are not happy about their decisions. For example, this committee should have say: 2 GHALCA members elected yearly or every two years; 1 lawyer; 1 Parliamentary Committee on sports member, 1 SWAG representative and 1 police officer.
The decisions by such an independent body would create no room for favouratism and soccer fans would be in to respect them and what their decisions are. Some soccer fans think those spots writers, club chairmen who are also GFA members and call-in-officers (usually friends) in that committee are bias which is true and this does not help FIFA's fair play. 4. The need for a marketing officer among GFA board or members is an urgent one. The world is not moving back and people are not willing to play soccer for fun anymore. The game is money and so are the people involved. The marketing officer should help the GFA to source/seek financial and sponsorship deals when effective program is in place to cushion the administrative finances and the league. This will help GFA from happily taxing clubs here and there rather helping them. Very soon, it will be Hearts, Kotoko and Goldfields, which will able to honour international assignments and no other clubs. You can ask RTU if I am lying. 5. I am also urging the GFA and the Clubs to have a psychologists/counsellors as part of the management structure. I know that welfare officers are doing well but sometimes the issue goes beyond that. There might be emotional and certain problems which players' face and will not be willing to say openly. This can affect their output on the field too. I am sure with counselling players will learn to cool down their tempers, find solutions to petty problems and adapt to situations. I am sure that Osei Kuffour's case in Mali, G. Adu Poku, Mark 'Fish' Mensah (Kotoko) would have had their issues settled. Counsellors can advice our so called under 17 players of the dangers for travelling to seek clubs abroad and end up spoiling their career in few years. I am offering this advice in the sense that whether we succeed or not we are currently paying much for past years in getting coaches and inviting players for trial matches. The money involved is the effort of workers and old cocoa farmers in the rural areas whose children want to have fun. Nobody has ever asked GFA to account for what they have been doing. Each year they draw up something as in secret and end up empty hands to deceive the Ghanaian soccer public. All the activities the GFA body has been to gather some parents and shave theirs hairs as players to player under 17 FIFA games to deceive the world. There one will see GFA bosses in 'Patakari' holding the cup won at end of the game. Their plans have worked to deceive all. When Ghana decided to form a Starlet team from the VALCO football tournament (where players are mostly students and younger) the country is struggling to even qualify for under FIFA 17 African preliminary games. A time is coming when people will not have patience any more for what appears to be sheer ignorance of responsibility. That time will come when no one can sit up there and claim he has 'thick skin'. That time when officials can be jailed for ignorantly letting any foreigner use our money without performance is coming. That time is almost here. I believe something can be done. As GFA chairman, you have to do it or quit honourably. Harry Zakkour did it for hearts. We have also waited patiently to see Herbert Mensah put in place a program for Kotoko and in the process have been able to seek more funding for the club. Then the ugly and selfish 'pull him down' (our excellent academic chemistry of Ph.D alternative) crops up. Some are not happy. Some are not comfortable, rather by pushing him up as a way of encouraging others to help raise our country and soccer in general some traditionalists are once again ready with a block. The man must go! Everybody has a flaw and he might certainly have one too but can we so pretend to be ignorant? Can we come to terms that Ghana is slowly but in a fast mode slipping from everything that has long raised our country high? I end this footnote hoping that we shall mend up peacefully. I do so to ask fans to stand by Herbert Mensah and rather call for a change in sports administration. With that more Herbert's and Harry's will come up to help our game. Ah, sadly in our world, it appears those who cannot do anything simply refuse to see others do it and do it well to merit credit. A taboo, curse greed, shame or a combination of all for doom?