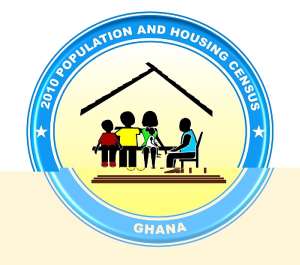 Ghana's first digital Population and Housing Census (PHC) takes off on the midnight of 27 June, 2021 designated as Census Night. It is the reference point on which all persons found within the territorial borders of Ghana are deemed to have been enumerated. Actual field work preceding the census commences today 14 June, 2021 with listing of structures across the country.
The 2021 PHC will consist of a population census and a housing census coordinated as one operation. By this approach, a combined information on the population and housing conditions are easily processed, analysed and disseminated in real time.
From the technical point of view, Population Census is the official enumeration of all persons in a country at a specified time. Whiles Housing Census is the official enumeration of all living quarters (occupied and vacant) in a country at a specified time. Enumeration here implies the collection, compilation, evaluation, analysis, publication and dissemination of demographic, social and economic statistics of the population.
The conduct of census across nations are triggered by the age-long recommendation of a decennial PHC without gaps and as a constitutional responsibility of all governments. In line with this Ghana has conducted five post-independent population censuses in 1960, 1970, 1984, 2000 and 2010 with the last two being population and a housing census. The 2021 PHC is designed to ensure that everyone is enumerated once, at the right place using appropriate questionnaire and finally to generate statistical information relevant for policy and planning purposes. This should be of concern to all persons living in Ghana whether foreign or not.
As a strategy for ensuring complete coverage of all persons and structures (buildings, metal containers, kiosks etc), listing is done ahead of actual enumeration by field officers. It is the process of assigning special serial numbers to all structures in an Enumeration Area (EA) including those in hard-to-reach populations and communities with poor connectivity. Listing of structures aims at identifying all structures for actual enumeration. Completion and analysis of listing data is expected to end on 26 of June, 2021. A major advantage of listing is the generation of geographical reference code (geo-code) of all structures in the country either living or vacant. As a mechanism to ensure quality data, District Field Supervisors (DFS) and District Information Technology (DIT) teams have been deployed to provide the needed support to field officers.
Conventionally, censuses in Ghana have been conducted using paper questionnaires, manuals, and maps. However, a unique feature of the 2021 PHC is the adoption and use of mobile data capture device. This means changing the questionnaire from paper to digital format, an innovative approach to conducting a "paperless census" is consistent with Ghana's digital transformation agenda and a mechanism to embrace environmental sustainability.
The 2021 PHC is expected to generate an indispensable statistical data for designing and tracking programs across multi-level. It is for this reason, among others that the Ghana Statistical Service (GSS), National Population Council (NPC) and all partners are calling on all and sundry to accord field officers the maximum cooperation in discharge of their duties. Whiles at the same time soliciting the support, commitment and participation of all including the media, academia, research institutions, family, traditional and community heads to achieving comprehensive complete coverage.
YOU COUNT: GET COUNTED
By Frank Ofosu-Asante