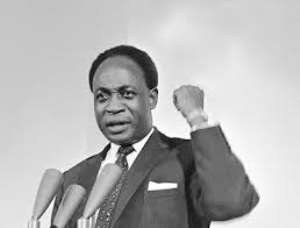 One cannot expect to have a country founded by the King of the poor in the person of Kwame Nkrumah and hope to achieve wealth creation. No, it is impossible! Ghana is globally recognized, internationally accepted, and universally known to be among the leading poorest countries in the world. A kind of leading the world from the bottom after rushing to become the first country to gain independence in sub-Saharan Africa. What a paradox?
A situation that all the country's Presidents never stop reminding the people of and also the people never stop identifying themselves with exempt for few others like the President of Imani Ghana by name Franklin Cudjo who in a recent post on Facebook (Ghana's notice board) resented to President Akuffo-Addo reaffirming Ghana's poverty international status in the event of arrival of free Covid-19 vaccines from Russia.
I commented on that post as well. I just want Mr. Franklin to know it is not the fault of the President or the people but an operating system installed by Ghana's first and founding President. Even during President Kufuor's regime, Ghana gladly joined the group of Heavily Indepted Poor Countries (HIPC).
In a country whereby its founder was himself king of the poor, no doubt we will forever have a country with poverty as its defining character. Once again, I do not blame any Ghanaian President for affirming and reaffirming the country's poverty status quo. They are simply calling a spade a spade. I was nearly tempted to produce an article to mark Ghana's independence of 2021 calling for Ghana to take the lead in forming a kind of G-7 or G-8 for Africa together with countries such as Nigeria, Senegal, South Africa, Kenya, etc to stimulate a new era of industrialization and economic growth on the continent as we were the first to gain independence in sub-Sahara. But on a second thought and reality check, I realized I am living in a fools paradise to propose such development ideas.
We are so proud as a country of our poverty defining character and in our poverty founding President that we are not ready to change. What Ghana does not know is that the President and most especially the founding President of a country and the country itself are one. For me, J.B. Danquah was best placed to the founder of Ghana. Or Danquah and the others excluding Kwame Nkrumah were best placed to be the founders of Ghana. If that was the case, Ghana as a country would have being singing a different song.
Kwame Nkrumah was not from either a prominent royal family in Ghana or any other elite family. He was just an ordinary person born into a poor home. He was raise by his poor single parent (the mother). If not for the benevolence of a Catholic Priest who helped him obtain a teacher training certificate at Achimota school in Accra, he would have become a fisher man at his hometown of Nzima in Western part of Ghana. He nearly also became a Catholic Priest but changed direction to follow a man he once heard on radio. This man was the prominent Nigerian journalists and later its first President (ceremonial) by name Nnamdi Azikiwe. This made Nkrumah wanting to become like his new mentor and pursue the path of politics and academics.
He had a scholarship to study abroad but his poverty standing became a barrier. He was the country's top and first brilliant but needy student. He travelled to Lagos in Nigeria to seek financial help from a family relative. In US at University of Lincoln, he struggled to pay his school fees, rent, food and personal maintenance. In the streets of Harlem, he began a fishing business like he would have done back home if he did not become a trained teacher so as to cater for himself but the fishing business failed as he lacked basic entrepreneurial skills for managing a business entity. He later got the help of a fellow student to get accommodation and medial job to do.
His first job after graduation was to become the Secretary of Ghana's first political party known as United Gold Coast Convention (UGCC). He accepted this job offer when his attempts to get a job in UK was blocked by the British authorities because he was being investigated for his links with Russia. This was what made him to accept the invitation of UGCC and return to the Gold Coast now Ghana. As Secretary for the UGCC party, he use the opportunity to raise money for himself by traveling on foot although he was being paid and holds multiple university degrees from US and UK, to the towns and villages to meet the Chiefs to help him. He did this under the guise of raising funds for UGCC. This his so-called fund raising was without the knowledge of UGCC leadership led by J.B. Danquah. It was during one of such pursuit that he became friends with my maternal grandfather by name Nana Kwesi Ansu-Gyeabour who was then the Krontihene (2nd-In-Command King) of Dormaa Kingdom and Chief of Wamfie but was acting then as King of Dormaa around 1949 and 1950.
My grandfather supported him financially in his so-called fund raising and help him also in other ways. But Nkrumah later waged a relentless war on him after gaining new political powers in 1958 a year after Ghana's independence by leading a team of security forces to mercilessly and brutally assault my grandfather at his palace, threw him to jail, dethroned him and persecuted him all through his tenure. This is the war the Ghanaian Security Forces are leading the Nkrumahist Movement to resume on me (his first grandson) and use me as scapegoat for the entire Ansu-Gyeabour family as they persecute the family. They took me as their prisoner of war way back in 1990 when I was only 11 years and intensify their torture of my life this time around aiming to eliminate me from the earth 11 years ago in 2010 when I refused to do their bidding back in graduate school in Netherlands.
The monies Nkrumah raised from his so-called fund raising was later used to form his own party in 1949 known as Convention People's Party (CPP) just for working for only 2 years. With support of traditional rulers (Kings and Chiefs) of Ghana like my maternal grandfather Nana Kwesi Ansu-Gyeabour of Dormaa Kingdom, he won the 1951 election and now got a colonial government job thereby finally ending his poverty harshship and hardship. It is the same pattern of Nkrumah moving around begging for money from people that today our leadership also moves around the world begging for money after giving all the country's money it has generated from revenue to a certain Permanent National Defence Council (PNDC) which claims to be the country's national security operatives with the name Bureau of National Investigation (BNI) now changed to National Intelligence Bureau (NIB).
The BNI/NIB controls nearly 2/3 of the country's GDP by way of annual budgetary allocation. They are a sub-group of the so-called Nkrumahist Movement reaping the country of all its resources to eradicate their poverty and operating as the de facto government of Ghana.
On top of all this, Nkrumah during his tenure and now via the so-called Nkrumahist Movement have created the impression that Nkrumah is a true Pan-Africanist when in reality Nkrumah was only concerned about projecting himself over others in Ghana and the entire African continent like he did to my maternal grandfather and others. With this ambition of Nkrumah in Africa, he ended up putting Africa in a "hot pan" disguise as Pan-Africanism as evident in the current prevailing conditions of Africa. If the Nkrumahist led by the BNI/NIB and their charlatan journalists cum private investigators does not know, J.B. Danquah was into true Pan-Africanism way back in 1935 when Nkrumah was just a student in US. So who is the father of Pan-Africanism?
It is a shame we just wasted millions of dollars to celebrate another independence. Independence from who and what? From Nkrumah and his Movement led by the BNI/NIB or from Nkrumah naturally ascribed poverty and his embedded poverty operating system in Ghana? The day that governmental or political power will be returned to the Kings and Chiefs of Ghana will be the actual independence day for Ghana and will be celebrated as such but surely not this one.
By Kennedy Kofi Osei-Tutu/02K (a.k.a. Kofi Rawlings)
Royal of Dormaa Kingdom, Ghana
Campaign on Twitter: #endtorturetokillinghana & #humanrightfirstinghana
International Status: Political Asylum Seeker since 2012
Current Location: Dakar, Senegal
Profession: Freelance Consultant
Tel: +221 785860440
E:mail: [email protected]/
Skype: Ken Osei-Tutu
Twitter & LinkedIn: Kennedy Kofi Osei-Tutu
PhD: In view since 2012 with 5 admissions
MA: Webster University, Leiden, Netherlands: International NGOs-2011
BA (Hons.): University of Ghana, Legon (Commonwealth Hall of Residence: Vandal City), Accra-Ghana: Psychology with Sociology-2004
Sec Sch: Presec-Legon, Accra-Ghana-1998
Basic Sch: Staff Village School-Legon, Accra-Ghana-1995