If these embers will not turn into ashes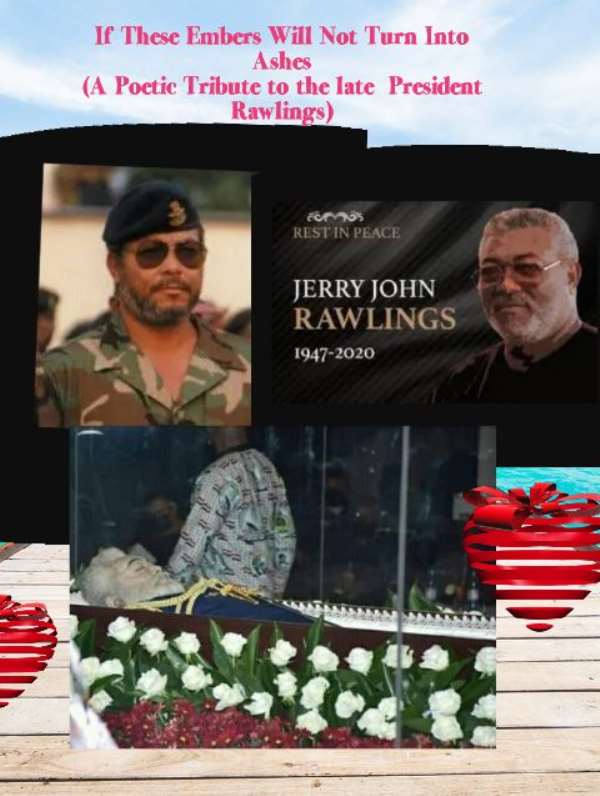 (A Poetic tribute to The Late President Rawlings - 1947 to 2020)
If these embers will remain so - so we pray for.
If these embers will not turn into ashes - so we wish
Creation will remain static, nothing dies, nothing born
The born die, the dead reborn.
Or
Reincarnation is illusion, Life after death - a fallacy.
Born one day, one day we go.
Gone today is John - the Jerry John we know.
The brave Rawlings.
Efo Djakpata, Jerry Boom, Action Man, Agyewodin, Junior Jesus, Soldier, Show Boy.
If these embers will not turn into ashes, Rawlings should remain.
The hot embers that test Democracy through the crucible,
Now ashes; white, pale, black and cold - in the casket bestowed, lonely.
Rawlings is gone, embers turned into ashes.
Jerry is gone, gone as Kwame Nkrumah, the trailblazer of Africa's emancipation.
John is gone, gone as Nelson Mandela, the giant who endured pain to see Africa's gain.
Rawlings is gone, gone as Thomas Sankara; who through his sacrificed blood emboldens the warriors of Africa.
Why will the embers not stay longer to taste the food they fired cooked?
May DEMOCRACY not suffer the sudden fate of its fathers. Amen
Ghana say Amen. Amen.
Africa say Amen. Amen.
Long live Ghana's Fourth Republic,
Hail, the energetic offspring of Jerry John Rawlings,
Born 1992, and lives today, 2021,
29 years, and still aging.
Multiparty democracy reigns supreme.
It's cold today, the bites of harmattan is deep, the coals are cold
Ashes we see.
The hot Jerry has turned icy cold.
If tears were a saviour, the streams of it flooded from our eyes will save Rawlings.
Junior Jesus he was christined, to the Senior Jesus he must go.
A true gentleman, stood for: honesty, integrity, probity, accountability, and social justice.
Justice is the Lord's.
The Lord gives
The Lord takes
In His time, he turns these embers into ashes
To Abraham's bosom, Jerry John Rawlings is welcomed.
What is born must extinct to expiration, but we loved this embers to warm us extra.
But no, ashes we see, scattered.
Our cheeks flood with tears
Across 54 States, Africans collates a pool of our tears.
The foundation is laid
With a stream of tears, we mould building blocks from these ashes.
As blocks built from the wreckages of Berlin wall, a new Africa we build, a new Ghana we become.
The prophecies of old manifest today
The Phoenix bird though seen die, but in a morph
Morphed in form anew, refreshed and strengthened,
To this generation we benefit this new birth of the Phoenix.
If these embers will not turn into ashes, China will maintain its great walls.
But the passing brings new world
Barriers are broken, wounds are healed
Allies are made.
If these embers will not turn into ashes, time we'll mark, forever and forever, into eternity.
And our dinner will never be served.
The candle lit bright, its light defeats darkness, it waxes to extinction, so great men are remembered for.
Forever in our hearts, Jerry John Rawlings, the embers that kept us warm, fare thee well.
Today as you march home,
Join the ancestors on the pantheon of Mount Africa,
By the fireside, seated alongside the heroes:
Extend our regards to JB Danquah, he was the wordsmith whose tongue still remain a useful building tool.
Tell Attah Mills he's missed, a peaceful man he was, he taught us tolerance and harmony.
Inform Abrefa Busia he's still in our hearts. A true patriot he was - Ghana first, Africa first, the rest considered.
Ooh, these hot embers, turned into ashes
The cycle of nature is irreversible
That which turns into debris have another use by a crafty hand
Legends, from your meeting, carry to the living African, solutions to finish the unfinished Africa project.
Gaddafi killed hunger, today his world is hungry.
Africa is hungry
These embers, these embers that turn into ashes, we blame for our hunger.
From the ashes of your embers, the awakened masonic African will build a new Black nationhood.
Our strength wanes for want of food,
Kola Nut is anti-hunger
That we demand from you gone elders, holy forebears:
Sekou Toure, same we say to you.
Jomo Kenyatta same we demand of you.
Robert Gabriel Mugabe and John Garang, Patrice Lumumba and Sylvanus Olympio, beautiful sons of Africa
Your comrade Jerry Rawlings comes home today
In his grave we've carried our needs,
Soaked with our tears
May your answers turn these ashes into a useful building blocks
And we'll not lament again that:
_If these embers will not turn into ashes_
For those who live, live for God, and when called by same God, our questions carries no weight.
Papa Jay, may your journey be without hindrances.
From the holy grounds of pilgrim's pride Goka, through the busy streets of Kumasi, to the Ghana's Capital, Accra, and Egypt's Cairo, all Africans say: Damirifa Due
Due ne Amanehunu
Fare thee well, Flt. Lt. Jerry John Rawlings.
*Written by: Charles Yeboah (Sir Lord)*
*Contact: +233-249542111*