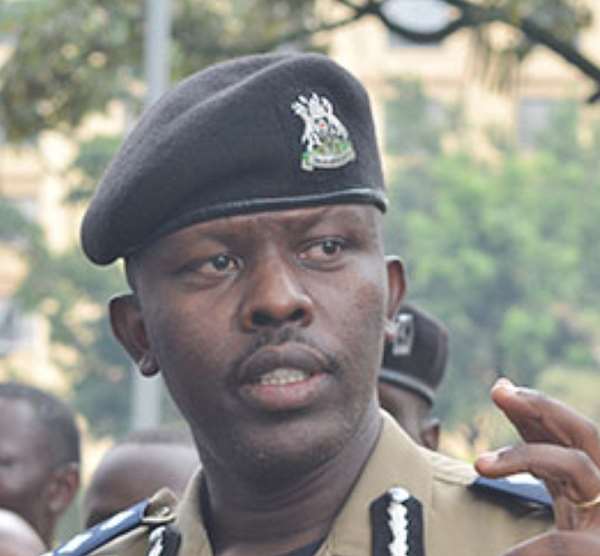 The violent arrest of a presidential candidate in an East African country sparked protests both locally and internationally as several youths have been shot dead on the streets of the capital and other parts of the country.
Robert Kyagulanyi Sentamu, aka Bobi Wine, was violently arrested Wednesday, November 18, on his presidential campaign trail in the district of Luuka, 128 kilometres, north east of the capital-Kampala in Uganda.
The arrest of Bobi Wine, whilst addressing a mini rally in Luuka district, turned into sporadic protests in many cities and towns across country.
Uganda's pop star, Kyagulanyi, who also doubles as Member of Parliament (MP) representing Kyaddondo East and National Unity Platform (NUP) presidential candidate poses great threat to the 34 year dictatorial rule of Gen Yoweri Museveni.
Bobi Wine was brutally arrested alongside several journalists from different media organisations. Among journalists, Ashiraf Kasirye from Ghetto TV was badly injured and remains in life threatening health conditions together with Samuel Balikowa who works with City FM radio.
The two journalists were also brutally assaulted by the security agents because the duo were accused of interfering with the police duties.
According to an eyewitness, the state armed forces at the scene attacked the journalists to stop them from relying live coverage. Some cameras were destroyed.
NTV a subsidiary of Media TV Kenya had its recording equipments seized by the Kampala authority for covering the protests in the capital-Kampala. Armed to teeth police officers, brutalized journalists that tried to take the photos when Bobi Wine was being arrested in Luuka district.
The news of Bobi Wine's arrest were greeted with countrywide protests in the districts of Masaka, 135 kilometres, south west of the capital-Kampala; Jinja, 101 kilometres, east of Kampala; Hoima, 255 kilometers, north west of Kampala; Gulu, 358 kilometers, north of Kampala.
Police officers were later seen battering journalists who were taking photos of Kyagulanyi's arrest.
On the streets of Kampala and its suburbs, 35-year-old Sandi Mwanje, a resident of Katwe was shot dead, 27-year-old Juma Sendagire resident at Lusanja Kitezi, Amasi from Kubbiri and unidentified woman in her 30s were killed among the dead when the protests brokeout in the capital after the information about the arrest of presidential candidate. Unconfirmed reports suggest that over 20 people were shot dead, but bodies have hurriedly collected and taken away from the views of the cameras. Also several journalists have had their cameras confiscated and photos deleted.
According to police, records 34 people were seriously injured and remain in critical conditions.
Though, information obtained from the Electoral Commission indicates that Kyagulanyi was officially scheduled to campaign in the districts of Luuka, Kamuli and Buyende; the police spokesperson, Fred Enanga, in a statement availed to this newspaper, said that: "All along the NUP presidential candidate and his party members, sought to undermine the integrity of the Electoral Commission, by refusing to abide to a peaceful conduct of the campaigns."
"His campaign trail from West Nile, to Acholi sub Region, Teso, Bugisu and Busoga, raised stakes for possible riots and public disorder," added Mr Enanga, although he couldn't explain whether the Election body sought police's intervention.
Clearly, the police and other security agencies weren't getting the arrest orders from the election body, rather from covert authorities.
According to police spin master, Enanga: "We have also registered other crimes of looting, vandalism and robbery by hooligans who took advantage of these demonstrations."
Enanga further claimed that: "the arrest as anticipated by our Joint Intelligence components, sparked off incidents of violent demonstrations especially in the areas of Masaka, Jinja , Kampala city and its suburbs of Bwaise, Kyaliwajjala , Nabweru, Kalerwe, Nansana and Mukono. In Mityana we blocked a group of youth who were being transported to reinforce colleagues in Kampala."
Bobi Wine's lawyer, Robert Amsterdam, an International lawyer at Amsterdam & Partners LLP, condemned the police brutality, he tweeted:
"Shocking news out of Uganda!!! M7 goons using live ammo against protesters condemning extra-legal arrest of Bobi Wine!"
"Lawyers cannot reach Bobi due to widespread rioting and illegal police activity. Our people say 8 are dead at the hands of Police!," Amsterdam added, in reference to city lawyer, Muwada Nkunyingi, who was denied access to Bobi Wine.
"I was denied access to my client, that I should first seek permission from Frank Mwesigwa [ a Commissioner of Police ], which I find outrageous," said lawyer Muwada, who had gone to see Bobi Wine's health condition, adding that: "What the police been doing is illegal. Any suspect, under Ugandan laws, is presumed innocent until proved guilty."
"A suspect detained in police custody is supposed allowed to meet his lawyers and immediate family," said Muwada, before adding: "Hon Kyagulanyi is a presidential candidate, he need his lawyers for legal advice, but we're denied access to him. We don't know if he really here or somewhere, basically he was kidnapped."
Separately, another prominent politician, Rtd Col. Kiiza Besigye, who previously contested against Gen Museveni and believed to have won, also tweeted: "Media blackout of what's been taking place in Kampala after arrest of presidential candidate Hon Kyagulanyi is very OMINOUS!."
Besigye added: "
"With several people confirmed dead & tension mounting, NBS Tv is broadcasting LIVE M7's campaign in Moroto; others quiet!"
Additionally, The Alliance for National Transformation, (ANT) who also a presidential candidate, Gen Mugisha Muntu, in the tweet, he suspended his campaigns, saying: "We have decided to pause our presidential campaign activities until our colleagues, Hon. Kyagulanyi and Hon. Patrick Amuriat Oboi are released and their freedom to campaign guaranteed.
We call upon government to recognise that this."
Here in London
Majority of Ugandans community who identify themselves with Bobi Wine's views in Diaspora also joined in to highlight the country's plight to the international, majorly to countries still supporting the Gen Yoweri Museveni's brutal regime.
Here in London, despite short notice, the protestors secured permission and staged a protest at the Uganda's Mission at Trafalgar Square, central London.
"The permission to protest at Uganda High Commission was obtained at short notice though due to Covid guidelines," Belinda Atim, one of NUP leaders of UK Chapter told this reporter. She added that: "the protest had to be abundant prematurely. Regardless, several members of the Ugandan Diaspora in London attended the demonstration."
Ugandans and their friends, demonstrated whilst chanting and expressing their displeasure about the manner,which the regime cadres and brutal police violate the citizens' human rights.
The protestors here at the London Mission carried the placards and chanted that Uganda government must stop violating human rights of Ugandans.
They expressed their disgust about the uneven application of the Covid guidelines where opposition members are arrested whilst Gen Museveni continues to campaign in clear breath of Covid guidelines.
"We call on the international community to hold the government of Uganda accountable for its violent operations and should monitor the election campaign process as there's uneven play field," said Belinda, in reference to the Uganda police brutality against Bobi Wine's supporters in Uganda.
Belinda added that: "We call on the international community to publicly condemn govt of Uganda's abuse of power as Museveni uses public services and resources to campaign."
In their quest to call to order the regime, which hugely depends on donor support, on behalf of all Ugandans in the United Kingdom (UK) and elsewhere that yearn for change, Belinda, says that: "We call for the international community to withhold any funds that is destined for Uganda as its likely to get used for elections campaign."
By the time of filing this report, Presidential candidate Robert Kyagulanyi Sentamu aka Bobi Wine was still in detention at Nalufenya police station in Jinja City, 101 kilometres, east of the capital-Kampala.
Electoral Commission mandated by law to give guidelines is yet to issue a statement on the events.
FDC's Presidential Candidate, Eng. Patrick Oboi Amuriat who was also in the Northern city of Gulu for alleged holding of un authorized rally, was relesed in evening. He promised to consult other Presidential candidates to get a way forward.
By Norman Kay