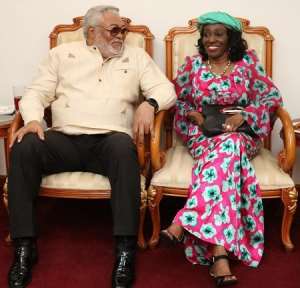 Former President Jerry John Rawlings and wife, Nana Konadu Agyemang Rawlings
The National Democratic Party (NDP) has scheduled Friday, September 4, and September 5 for its extraordinary congress at the GNAT Hall popularly called Teachers' Hall in Accra.
Members of the party will use the same programme to introduce former First Lady Nana Konadu Agyemang Rawlings as the party's flagbearer for the second successive time.
The NDP which goes by the refrain 'Be Bold!' will hold the congress under the theme: "Shared leadership for national transformation, human empowerment and anti-corruption."
Former President Flt. Lt. Jerry John Rawlings, founder of the opposition National Democratic Congress (NDC) out of which the NDP was born, is expected to be the guest speaker.
He has been billed to speak on corruption and national development.
NDP Formation
The NDP was founded in October 2012 with Mrs Rawlings as its leader, after breaking away from the then ruling NDC which she (Mrs. Rawlings) had nurtured to become a dominant force in Ghana politics.
Nana Konadu was formerly a high-ranking member of the then ruling NDC founded by her husband before breaking away.
Mrs Rawlings left the NDC in an acrimonious fashion after her ambition to become the then ruling party's flagbearer instead of the then sitting President J.E.A Mills at the Sunyani Coronation Park in 2011 failed miserably.
It was at that Sunyani Congress that the parlance FONKAR (Friends of Nana Konadu Agyemang Rawlings) and GAME (Get Atta Mills Elected) was popularized in local politics.
In his recent controversial book 'Working with Rawlings', Prof. Kwamena Ahwoi, one of the NDC gurus, recounted how they used state machinery to discredit all Mrs Rawlings' efforts in order to stop her from leading the NDC to the December 2012 election which Prof. Mills never lived to contest after his sudden death in July 2012.
The NDP officially announced its formation on 7th December 2012 and held its first national congress at the Baba Yara Stadium in Kumasi on October 13, 2012, endorsing Mrs Rawlings as its leader.
---Daily Guide