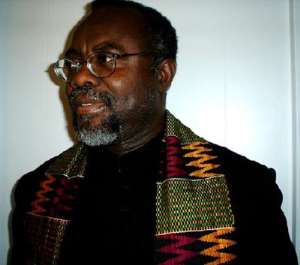 He has either acted as a sub-divisional Deputy Director under the grossly incompetent Mr. Sylvester Mensah, the man who effectively bankrupted the National Health Insurance Scheme (NHIS) and got placed under house arrest for the same, under the thoroughgoing corrupt tenure of the now-Candidate John Dramani Mahama, and now as Acting Director or Rector of some nondescript species of a think-tank called JEAM Institute of Economics and Social Research. So, these second-bananas positions ought to tell us that Mr. Eric Ametor-Quarmyne is a mediocre professional and a political operative who has had to be closely supervised around the clock, to ensure that he performs up to snuff, that is, assuming that, indeed, this perennial Mahama hanger-on is actually capable of performing up to snuff.
In other words, this man does not have the requisite credibility and moral and intellectual competence to take on President Addo Dankwa Akufo-Addo's Advisor on Health and former Director-General of the Ghana Health Service (GHS), let alone cavalierly presume to feign familiarity and disdainfully so with Dr. Anthony Nsiah-Asare, the astute and genius graduate of PERSCO or Okwawu-Nkwatia's Saint Peter's Secondary School, who was politically removed by then-President John Dramani Mahama as Head of the Komfo Anokye Teaching Hospital (KATH). The Dear Reader may already know the details of what I have yet to tell her or him, which is that Dr. Nsiah-Asare fiercely contested Mr. Mahama and soundly defeated the most corrupt Ghanaian citizen ever to have been appointed President of the Sovereign Democratic Republic of Ghana by the William Atuguba-presided panel of the Supreme court of Ghana, in another lower court but a court of superior moral and professional integrity, nonetheless.
In other words, when it comes to professional and global stature, Mr. Ametor-Quarmyne is absolutely no match and no classmate of Dr. Nsiah-Asare. On the other hand, Mr. Ametor-Quarmyne is absolutely right to tell Ghanaians that the Great Island Country of Cuba is a country that is endowed with far less natural resources than Ghana but has one of the best healthcare systems of any country in the world. What the Akufo-Addo critic conveniently forgot to add is the fact that had Candidate Mahama been born or become a citizen of Cuba and been mired in such payola scandals as the Jibril Kanazoe Extortion Affair and the European Airbus SE Extortion Racket, the Bole-Bamboi street-boy would not be megalomaniacally gunning for the Presidency for a second consecutive time, because he would likely have since long been executed by firing squad by the government of the immortalized President Fidel Castro.
You see, Cuba has been able to reach out to help even highly industrialized European countries that have been severely hit by the Coronavirus Pandemic like Spain and Italy because unlike payola-guzzling unconscionable kleptocrats like Little Dramani, who prefers to steal and stash our country's fiscal resources offshore, as attested by Forbes' List of the Richest Ghanaians, the Cuban leaders wisely prefer to keep their country's resources onshore or at home for the development of Cuba itself, and not for the development of foreign countries like Dubai. This is what intelligent, civilized and patriotic leaders do. On the surface of his argument, Mr. Ametor-Quarmyne may be perfectly accurate that the present National Health Insurance Scheme (NHIS), especially in terms of the provision of Primary Healthcare (PHC), may not be quite as functionally perfect or efficient as President Akufo-Addo's Health Advisor would have the rest of the country and the global Ghanaian community believe. But it is, nonetheless, and the critic himself openly admits the same in his article captioned "The President's Confused Bunch of Advisors" (Modernghana.com 8/3/20), far better than the effectively bankrupted and dysfunctional National Health Insurance Scheme/System inherited by Nana Akufo-Addo from Mr. John Dramani Mahama.
Yes, there already exists the oil money to be tapped into for the upgrading of the National Health Insurance Scheme, although the former Mahama Finance Minister, Mr. Seth Terkper, is stridently against the very idea of using some of our oil money for the sustenance of the Akufo-Addo-implemented fee-free Senior High School System. The fact of the matter, however, is that money from Ghana's oil resources has been available since as far back as 2001, by the reckoning of Mr. Ametor-Quarmyne himself, but was never used by the Mahama regime to maintain and upgrade the National Health Insurance Scheme. So, why is the man who criminally failed to retrieve even a pesewa from the Woyome Loot now telling Ghanaians that he intends to use some of our oil wealth to upgrade the very Primary Healthcare System, which Mr. Mahama himself deliberately and recklessly collapsed? Come again, Mr. Ametor-Quarmyne, kindly explain yourself a little further.
*Visit my blog at: KwameOkoampaAhoofeJr
By Kwame Okoampa-Ahoofe, Jr., PhD
English Department, SUNY-Nassau
Garden City, New York
August 3, 2020
E-mail: [email protected]