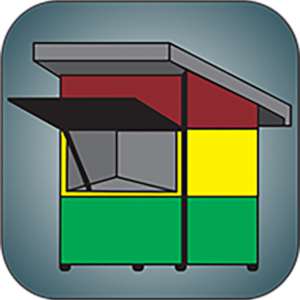 "For the love of money is a root of all kinds of evil. Some people, eager for money, have wandered from the faith and pierced themselves with many griefs" ~ 1 Timothy 6:10. Indeed, the love of money can cause an individual to enter into ventures that he never planned of.
It all started when I completed my mandatory national service. The dream of every graduate who completes his national service is to get a good job, buy a car, get a nice house, marry a beautiful lady and start making family. I was not different from the young men who had such great dreams and ambitions.
To fulfil those beautiful dreams, I started job-hunting. I knew that with my university degree, landing on a good job wouldn't be a problem.
I sent letters to a couple of institutions; financial institutions, industrial homes, NGOs, educational institutions etc. Unfortunately, non of these institutions even had the thought of calling me up for an interview.
My new job of distributing application letters lasted for two (2) years without any positive feedback. It got to a point where I didn't even have money to make copies of my documents. Life was really hard.
How I Got Introduced To Lotto And Sport Betting As A Quick Way Of Making Money
On my way home from church, after a long spirit-filled service, I came into contact with Nana Kofi. Nana Kofi happens to be a mate back in high school. He is known to be a "don", when it comes to gambling and other quick means of making money.
I shared my plight with Nana Kofi after a long conversation. Nana Kofi, who appeared worried more than I was, promised to help me out of my situation.
Nana Kofi visited me the next day with a piece of paper in his hand. Written on that paper were two numbers; 11 and 90. Kofi handed over the paper to me and asked me to stake those numbers at the nearest lotto shop.
I brought out my last GH₵5 and invested all on the two numbers as directed by Nana Kofi. Luck visited my home, as both numbers played. Brethren, I won for myself GH₵1000.
The 1000 cedis was the highest amount of money I had ever possessed in my life.
After realizing lotto was that lucrative, I decided to invest more and win more. I started staking on daily basis and before I realized, I had reinvested the 1000 cedis I won without further returns.
Now I became addicted, any little money I get, I invest into lottery. Sometimes I won, other times I didn't but I always believed I'd one day make it. One funny thing about lotto is that, if today you staked 12-50-33 and it plays 13-49-33, you'll be forced to try again. The more you try, the more you lost some very good money.
It got a time I realized I was losing money and had to find other alternatives. That's how I landed on sport betting. I thought sport betting was going to be easy because choosing between Manchester United and Fulham shouldn't be a challenge.
I signed up to various sport betting portals. My love for lotto was still strong so I combined both sport betting and lotto. Sporting betting was great. I made some good cash at the early stages.
My interest grew stronger and my desire to become rich overnight heightened. Wealth was just a kilometer away from me. I graduated from staking 1 cedi to 5 cedis. I kept winning and as usual, I reinvested my won money on new bet.
All these while, I had not given up on lotto too. I had new circle of friends who introduced me to various telegram and WhatsApp groups where I could get fixed matches. I borrowed to invest In such matches and the result always was heartbreaking.
I wanted to stop but I couldn't. Anytime I refused to stake a lotto number, the number played and anytime I didn't have money to place a bet, my predictions always got through. This made it difficult for me to break-away from my addiction. There was always a reason to continue.
How I Managed To Flee From The Addiction Of Lotto And Bet
How my interest in lotto and sport betting evaporated from my mind still remains a mystery. No pastor prayed for me and I didn't go for a counseling services. It just happened. How? This is what I did:
1. I made a decision to quit gambling.
Yes, I made a decision. I just woke up one morning and I decided I was never going to continue gambling. I sat on my bed, did a deep introspection and realized how much money I've wasted on gambling.
"What if I had invested all the money I had wasted, what if I didn't enter into gambling"? I kept asking myself these questions. The more I thought about the negatives, the more I lost interest.
Nobody can stop you from gambling. Whether you addicted or not, the only one who can stop you from gambling is 'you". Yes, you. Make that bold decision today, and you'll see how happy you'll become thereafter.
2. Avoid Friends And Platforms That Encourage Gambling
Before quitting sport betting, I exited all sport betting platforms on Facebook, WhatsApp and Telegram. All betting applications I had were all removed from my phone.
Most importantly, I screened my friends. There's an Akan proverb that says, show me your friend and I will show you your character. If all your friends are gamblers, you'll automatically become one.
It was a very tough decision but I had to distance myself from them. I got new friends who were more focused, determined and had purposes in life.
Today, I don't even get the urge to get closer to a lotto kiosk. I've had people coming to me with lotto numbers but I always turn them away. Sometimes the numbers play and they bring me evidence but I've always said to myself "I ain't going back".
For sport betting, it's totally out of the circle.
You can also do it. It all start with the mind. Just say to yourself, I'm ain't doing it again and stick to your words, no matter how difficult it may be.
You can do it!
By
Alpha Osei Amoako
Email: [email protected]