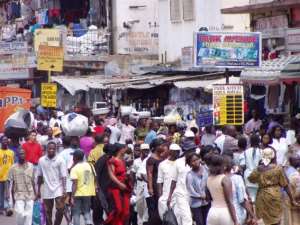 Greater Accra, Greater Kumasi, and Kasoa were put under lockdown for three weeks. The purpose according to the president was to contain the spread of the coronavirus, enhance contact tracing, and do mass testing.
The lockdown affected movement i.e only essential workers were allowed to move out to work.
On April 19, President Nana Akufo-Addo in his bi-weekly address to the nation on the state of COVID-19 lifted the restriction of movement in Greater Accra, Greater Kumasi, and Kasoa. This meant that people could go on with their regular activities.
Life returned to normal as traders and other non-essential workers in the large informal sector had the opportunity to continue with their economic activities by continuously practicing the preventive measures of regular hand washing, nose masking, and social distancing.
Increase In The Use Of Nose Mask And Decline In Social Distance
Prior to and during the restriction of movement, the majority of Ghanaians were very regular with hand washing and practiced social distance. The demand for hand sanitizers were so much that most companies switched to producing sanitizers in bulk.
The narrative changed right after the restrictions were removed. People felt life has gotten back to normal hence the disregard for the precautionary measures.
The crave for nose masks increased and has become a trend. Everyone is in a nose mask now but the use of hand sanitizers has reduced drastically. For social distancing, it doesn't exist again. Supermarkets are packed and people seem not to care again.
I visited a grocery shop earlier today. I was refused entry by the gatekeeper because I didn't have my mask on. I picked my mask from my backpack and fixed it on. I entered the shop and realized everyone had taken their mask off because of heat. The place was full of people and there was no room for social distancing.
I moved out, visited a couple of grocery shops and the same thing replicated. Some even had a notice in front of the shops that reminded people to put on a mask before entering but social distancing was disregarded completely.
If society does not change its approach towards the social distancing practices, then Ghana is really in for huge trouble. The disease spreads when people come into close contact with each other. Wearing a mask is not the solution to the problem — all measures should be practiced religiously.