VISION DJ IS THE REAL DEAL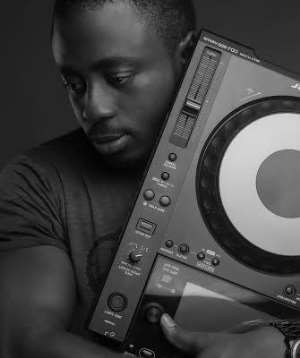 EDDIE BLAY 15 08 2015 
Although relatively young, Vision is definitely one of the most experienced DJs in the country. I remember his days with Vibe FM, when he would be called upon to resolve any technical issue the station might have had. Vision is that DJ who has the technical capability to sort out problems, proving that it's not only about playing music, but also being 'tech savvy' enough to know how to solve any crisis that might erupt during a broadcast. With his Vibe FM days far behind him, Vision remains one of the most bankable DJs in the country, with a legion of fans closely supporting him. As part of YFM's Hotsquad, he continues to dominate morning radio, mixing and blending on Ryse & Shyne. I caught up with him to find out more.
How did you begin your career as a DJ?
Vision: I started way back in high school. I've always had a deep passion for music. I used to hear and watch people DJ, and soon found myself thinking "I could do that too". I then started playing at friends' parties and school events. It was something that came naturally to me. It didn't take long to realise that it was something I wanted to take seriously, and possibly make a career out of it. In hindsight, it was a pretty good decision, because it's all about doing something you love, and I'm in a happy place.
What's there hardest thing about what you do?
Vision: With any career, there will be many obstacles and challenges. The trick is, having the patience and skills to overcome them. You just can't let any situation thwart you from being successful or happy in your line of work, whatever it may be. I have lot problems, but always find a way to overcome them. However, I should say the hardest problem I'm still trying to deal with is having to go to the bathroom while I'm doing a three or four hour live set. (laughs)
What do you love most about being a DJ?
Vision: I think it's all about putting a smile on listening faces every morning or making their day before they get to work. Waking up can be a difficult thing for many people, so if I can put them in a good mood as they begin their day, I have done my job. People don't really appreciate how important my job is. Ghana is a country that loves music. The DJ is the one that provides it. I love having that impact in someone's life. It's very fulfilling. I get to do what I love, and touch people's lives, even if it's in a small way. What's not to love? (laughs)
You play on radio, live events and at clubs. Which do you prefer?
Vision:  I would have to say radio. It makes it easy for me to introduce new music or new genres of music to my listeners.  I also love the reaction I get from them on social media. On radio, you are a bit more free to be yourself and play music people haven't heard before, without having to worry about whether people are dancing or not. Radio can be very liberating. Live events are cool too. Seeing the crowd dancing and having a good time because of the music you're playing is very satisfying to any DJ.
Which would you say is the most memorable moment of your career so far?
Vision: That would have to be when I played at the Big Brother Africa House.  I was so nervous when I got in there, but after seeing the reaction I got from them was so good it felt wonderful. It was nice to have the opportunity to entertain the housemates, and to represent Ghana on such a huge platform. I also played at the HIFA Music Festival in Zimbabwe. I performed in front of more than 10,000 people who loved and raved to my set. That was pretty awesome. Looking forward to doing something like that again.
There is so much competition out there now. How do you manage to stay on top of your game?
Vision: It's all about hard work, preparation and practising. You absolutely cannot get complacent in this line of work. You need to constantly upgrade your skills and music. The last thing I do every day before I go to bed is go through my music and make playlists for the next day. I always search for new music, new artistes and new genres to introduce to my listeners. So, it's like I create their daily playlist.  It's something I take very seriously, and I am really proud of.
Do you think DJs get their due in Ghana?
Vision: It's been a very hard and long road, but I think we are getting there. Now, DJs are getting endorsement deals and being paid well like artistes. Who would have thought that? It's certainly about time. Too much time has passed without DJs getting their due recognition. It's great to see that our work is finally getting appreciated.
What advice would you give to upcoming DJs reading this?
Vision: They should believe in their dreams and never give up. People will always try to bring you down or stop you from achieving your goals, but you need to stay focused on you targets. Life is too short for you to listen to negativity. Always practise and be prepared before your shows.  Try to be one step ahead of others. Another important thing to do is to try and take your chance at any given opportunity. Whenever you see that opening or window of opportunity, don't hesitate to take it, for it could be the one to define your career.
What's next for you?
Vision: Well, I'm working on my upcoming album 'The Blow Chicken'. It's my Hip hop/R&B/Afrobeats album due out next year, and will feature most of the top names in the industry. It's something entirely new to me and I'm really excited about this project.
A message to your fans and listeners?
Vision:  Thank you all for supporting and listening to my show every morning. Any ideas and criticism are welcome. Keep on praying for me. God bless.
And they should keep prayers coming too.
Catch Vision DJ and Akosua Hansen on Ryse&Shyne, Monday-Friday 6:00-9:00am, on Y 107.9FM.