Ghallywood Opens Up To Media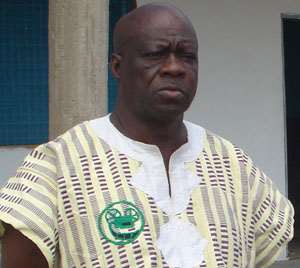 William Akuffo, CEO of Ghallywood
THE GHALLYWOOD Film Academy, a film training institute located at Prampram in the Greater Accra Region and dedicated to changing the face of the movie industry in Ghana and beyond, has held a day's familiarization exercise for a select core of the media fraternity.
The day's exercise, according to the handlers of the institution, was to afford the media a unique opportunity to assess at first hand, the school's facilities, working environment and expansion plans for the future.
Director of the academy William Akuffo, who welcomed the media, said his outfit considered the media to be a vital ally in the propagation of the school's ideals and agenda and thought it was important to organize the exercise to foster good relations.
Ghallywood, according to Mr. Akuffo, had just taken off and wouldn't take long before it established its credentials as a powerhouse in the training of movie professionals.
'We have huge prospects for this academy, and it is our belief that as we chart that path, the government and all other stakeholders will help us grow. Ghallywood is the ideal school for training of professionals who will take the industry by storm in the foreseeable future.
We are a serious establishment, committed to promoting best industry practices.'
Veteran actor and lecturer at the academy Abeiku Sagoe told BEATWAVES Ghallywood was the only institution currently offering a one stop learning module in filmmaking in Ghana.
'Ghallywood is different from the rest. It is the best on the local scene. Over here, there is that drive to inculcate into our students the best industry values that ensures you bring out the best in you.'
The encounter with the media comes days after the school announced that, through a joint collaboration with the National Youth Employment Programme (NYEP), it had trained 500 youth across the country in different disciplines of the movie industry
These students who passed out last year are currently engaged in various productions in their respective communities while about 450 are also currently receiving training at the Ghallywood African Film Village located on the Accra-Ada road in the Greater Accra region.
Ghallywood sits on a 210-acre land which also houses an orphanage with about 34 kids who are put through school and given all the care they need.
With a staff strength of 14, including two foreign teachers, one from the Royal Academy of Dramatic Arts, the academy currently has a student population of 400, with some 200 as residents and the remaining, coming from adjoining communities and regions. It runs courses in acting, make-up, movie directing, video editing, modelling and news casting.
Launched in 2005, Ghallywood started its film academy about two years ago and currently has a number of structures in place at its film village for effective teaching and learning.
The academy runs courses in film directing, digital editing, camera work, lighting and make-up.