Clinic Matters: What's gwan?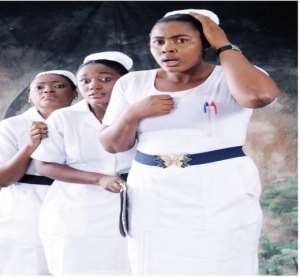 Cast of Clinic Matters CLINIC MATTERS has over the years grown into a world-wide enjoyed TV sitcom. When Paul Igwe, the producer started the programme back in 2008, little did he know the impact it was going to make on him. Bagging four TAVA awards in 2010 was a feat he did not expect. According to him, the statistics got from analysts among African viewers, especially in countries like Kenya, Ghana and Uganda show that it is the most popular TV sitcom in those countries.
In Ghana, for instance, the programme is rocking the airwaves so much that television houses have made billboards at several junctions advertising it. It is that popular. But, has Clinic Matters not just dropped to an endangered species, with the alleged sack of two notable faces in the sitcom? It is no longer news that Amanda Ebeye, who used to play Nurse Abigail is no more with Clinic Matters. Also, Franca Ogochukwu, the nice, quarrel-settling nurse Theresa is also not featuring again. Information reaching M & M has it that there was a quarrel between the crew and its producer, leading to the exodus of the duo. But Igwe debunked the rumour as unfounded and baseless. "It is not true that I had any issue with the Clinic Matters crew. It is just that Amanda Ebeye, who plays Nurse Abigail got a better offer than what we could afford, and she left," he disclosed.
He did not however agree they left at the same time as he said that Amanda had left long before Franca did. "In Franca's case, she left because she got married and put to bed just before we could start shooting for a new season. She never informed me she was getting married and it was a surprise when I learnt about it. We were handicapped as we needed to start shooting for the new season. I would not have tried to stop her from getting married or pregnant for that matter, so we had to get someone else, Ejiro Okuramen but I hope she will come back after nursing her baby". He admitted it would be normal for people to think that there really was an issue that led to the duo eventually leaving, but insisted it is merely a coincidence that two of them left in the same year. " I think we have been managing the situation very well. We got Lillian Esoro to take her part and I must tell you she has been up and doing. I don't think it has been affecting our show, except, of course, for the better. Lillian Esoro and Ejiro Okuramen are good. They have not disappointed our fans so far. It is always very difficult getting new faces to replace old ones, but we were meticulous in choosing them."
When contacted, Amanda Ebeye concurred that she has left Clinic Matters for good, but not because she had any scores to settle with the producer. She however said that she had to make a choice between Clinic Matters and Soul Sisters, and she chose the latter. Franca Ogochukwu also said she has not left Clinic Matters. "I am only away on maternity leave. I just put to bed and will be back soon."