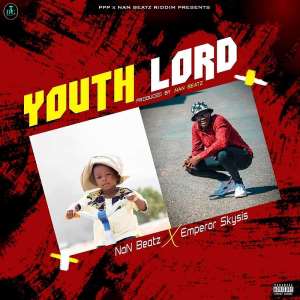 Rare but real as the three-year-old, who released his first Riddim project on his birthday, finally drops his version of the NaN Beatz riddim, on which Emperor Skysis was recruited for a feature.
The Nan Beatz Riddim was a project released by PPP Records to commemorate the birthday of Riddim's producer, Nan Beatz.
Making the beat, the three-year-old was taken to the studio and asked to play keys on the keyboards. His tones were sampled and programmed into a beat, which was then mixed and mastered for his debut Riddim project, Nan Beatz Riddim.
Countless musicians acquired copies of the Riddim after it was released to exhibit their talents; the first to be released was Ra Ra by Ablord, and Youth Lord is the 2nd version by Nan Beatz and Emperor Skysis, a seasoned artist with approximately 5 years experience in the industry.
The song is accompanied by visuals shot and edited by d'arts graphics, and it conveys a message of change within a certain generation of youth.
Kindly watch the video below: