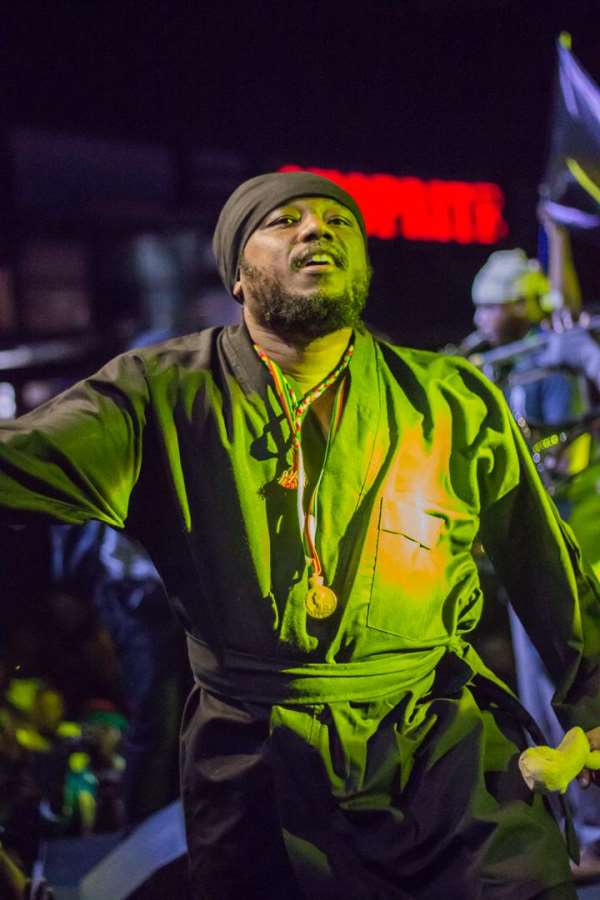 Legendary radio personality cum multi-award winning Kuchoko artiste, Blakk Rasta may arguably have rooted himself as Ghana's most energetic live band artiste in the country today at the just-ended Kuchoko Roots Festival at the Junction Mall, Nungua, Accra.
The festival started at 8pm on the dot and wore on till 3am saturday morning when the headline artiste, Blakk Rasta mounted the stage. Every sleeping or dozing attendant woke up as if jolted with a shocker taser. The screaming was hurricaneous as the Herbalist Band struck the first notes of their music. The frenzy was stupendous when Blakk Rasta opened the energetic set with his 2004 hit song Chucku Laryea. He followed it up with Joseph Hill, Ganja Sweet and Iyawata.
The surprisingly decorous and well-behaved fans known as the Kuchoko Soljahs flew their flags and danced frenzingly as Blakk Rasta belted out hit after hit joined on stage by traditionsl dancers for Zantan Bua and Dede. The energy was overwhelming and absolutely unexpected from a forty-four year old Blakk Rasta. There was no boring morning till the Kuchoko Legend announced he was performing his last song after one hour of heavy leaping and skanking.
Nevertheless, the fans will have none of ending the show after one hour on stage by the visibly exhausting Blakk Rasta. They shouted, "We want more...! We want more.... !" A couple of fans managed to climb the stage, defying security, knelt down and begged the artiste to perform more songs. Blakk Rasta obliged and charged back after drinking a bottle of water. It looked like he was beginning the show all over again with untold energy.
Another thirty minutes of performance soon went down as the fans shouted and yearned for more. This second part was unique. Blakk Rasta asked the fans after every song which of his large repertoire of songs would they like to listen too and he performed that till he begged to leave the stage.
Though the fans still refused to allow him to leave, Blakk Rasta eased himself out after a ground-breaking a one and half hours of tremendous Kuchoko energy. It was surprising how fans waited religiously several hours till 3am to see Blakk Rasta. There is an eminent strong awakening of Kuchoko in Ghana soon. Another thing worth mentioning is that the mamoth crowd sang every single Blakk Rasta song from beginning to till finish.
Several artistes were booked for the festival, all of who came and delivered splendid sets. Notably amongst the about twenty artistes were Osagyefo, Knii Lante, Redfyah, Ras Revolution and the United Abbysinians, Ras Kuuku, Jahwi, Masaany and Xali Hali. They had the thousands of fans who attended screaming their lungs out.
Kuchoko Roots festival is a Blakk Rasta initiative to have Africans do Reggae music blended with traditional African sounds, dances and instruments in a sub Reggae genre known as Kuchoko.
Blakk Rasta himself was voted the BEST REGGAE ARTISTE 2017 last Friday at the Ghana Music Awards, South Africa held in Pretoria. He was nominated in a category that had heavyweights like Shatta Wale, Stonebwoy and Samini. Others were MzVee and Epixode.