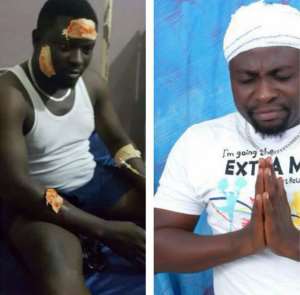 The Public Relations and Welfare Officer of Film Producers Association of Ghana (FIPAG) Mr. Michael Kwaku Ola has called on the Ghana Police Service to arrest gospel musician Brother Sammy for faking his recent accident in the media.
According to him, Brother Sammy faked his accident to create awareness about his yet to be launch album.
Below is the full transcript of Ola PASTOR SAMMY IS FAKE AND A LIAR
Not long ago people of Ghana rose upto the news of the gosple musician brother sammy, being involved in an accident. Many were those who were quick to reffered to some prophecies concerning celebrities this year and other running around for update.
To some of us, we wanted to wait till the dust settled and know the truth about this accident because the pictures circulated around was a bit questionable.
It has come as no surprise that few days after his staged accident, the fake Pastor Sammy is sensing posters of his aseda album launch. What is this trickster thanking God for? For helping him deceived Ghanaians or for exposing his lies to us.
There is no doubt he planned this poor drama with his manager Kofi. Very disgusting to say the least of a supposed Pastor.
Take a close look at his accident pictures, Which nurse or doctor dresses wounds with blood stains on the plaster? Why wasn't the medical officer who attended to him, well trained to first stop bleeding before dressing?
Look at his demeanour on the hospital bed. Liar! He suffered an accident and there is not even an iota of trauma written on his face but a face of a poor actor?
Check where he had sores in his cheek and arms, with blood stained plasters, and compare with his album launch pictures. How did the dressing on his right arm, suddenly shift to the left arm?
Where is the sore on the cheek too? Suddenly vanished? And we call these kinds of fake actors and confident tricksters gospel musicians?
He did all that to promote his album launch. A techniques of lying left for others but for a so-called Pastor? Very sad.
Police should arrest this guy for deceiving Ghanaians and Christians should ignore such attention seekers. I pray no Christian attends his album launch promoted on the premise of lies and fake accident.
SHAMAE UNTO YOU SAMMY. YOU SHOULD BOW YOUR HEAD IN SHAME!
Michael Kwaku Ola,
Call me the truth seeker
Source: SeanCitygh.com