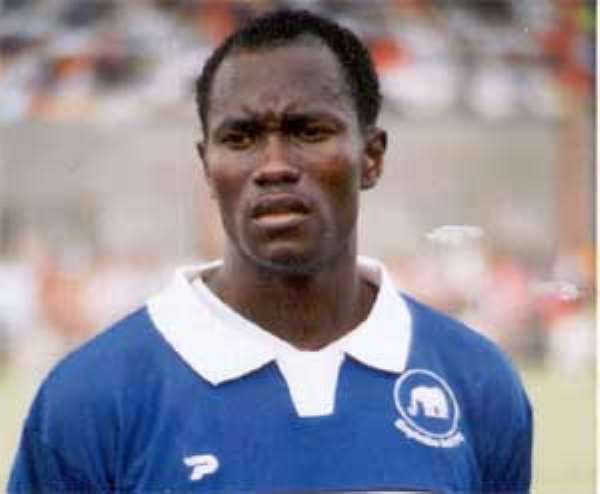 Why I want to make Nigeria a home, says Ghanaian Frimpong Ghanaian-born Joetex Frimpong is dying to lace his boots for Nigeria, even if it means renouncing his Ghanaian citizenship. He says Nigerian blood flows in his veins. But his fear is that the array of world class strikers in Nigeria may kill his dream.
"I love Nigeria, I love to play for Nigeria," Frimpong said.
"Nigeria is the best soccer nation in Africa and every African wants to play for Nigeria.
"It's a pity that I am not a Nigerian, it's also a pity that Nigeria is endowed with top strikers. And that may rob me the opportunity of playing for the country even if I become a citizen. It take me abundance of skill to break into the team. "
Speaking to Daily Sunsport in Ibadan after a league match recently, Frimpong narrated how he was invited by Coach Godwin Uwua, former handler of the National Under-23 team, the Dream Team, but declined the invitation on the ground that he might be used and dumped in just one match because most youths in Nigeria were talented.
"I am a Ghanaian, no doubt, but I could well claim Nigerian origin because I have spent sometime here in Nigeria. I have, in fact, lived in almost all the geo-political zones in Nigeria. That makes me more Nigerian than many who are born here. That is, however, not the issue, I would want to emphasize.
"I was invited to play for the Under-23 team in 2003, when Coach Godwin Uwua was in charge but I had sleepless nights weighing the pros and cons of getting involved in what I know I couldn't finish. Why I say this is because of the array of stars that abound in the Nigerian League and outside Nigeria. That is not to say I am not confident of myself but, if you understand the politics in sports, you will agree with me that I made the right choice.
"By now, I would have lost relevance in the team with no prospect of graduating to the Super Eagles. With the injury that kept me out of action for sometime, I would have been forgotten by now, I had accepted the offer. I am lucky not to have been carried away by the funfair of the time. "My national team career with the Black Stars would have been jeopardized. I have dreamt of playing for the Black Stars from childhood. When I shunned the offer from Uwua, I was invited into my national team. I still thank God for everything. I am happy for it.
Nigerians are good people, so kind. But that does not take away my being a Ghanaian. I love my country. Nigerian football has given me a lot of luck and opportunities. I have won two Continental trophies and two Super Cup medals with Enyimba, which tell a lot of good stories about my sojourn in this country that has brightened my future. All I pray now is that the same luck would see me get a good club abroad where I can end my career with maybe a European medal. "The style of play the Super Eagles adopt thrills me a lot, the rating of FIFA confirms my thoughts. Though, I am a Ghanaian, I will always support good football. The Black Stars will bounce back to their glorious days.
"I have lived in so many cities in Nigeria but my stay in Minna, Niger State still lingers in my memory. That is the state I would love to retire to when I finish my career in football. I love their food and their way of life. They eat fish a lot. That is why I developed the habit of eating fish and I will make the place my second home. "I am very excited about Enyimba's third consecutive attempt at the Champions League. I am excited about the re-organisation going on in the Premier League as well. That urge to win at all costs by home teams have diminished to the barest.
"Take a look at what happened in Ibadan between 3SC and Enyimba and you will certainly agree with me. Though, the supporters told us to expect the same result we got from their team last year, the verbal war ended on the pitch as the teams settled for a goaless draw. The referees are now conscious of their reputation, rather that what they stand to gain from their hosts. So, there will be a lot of away victories from good teams.
"I will certainly express my utmost gratitude to the management of Enyimba, who have taken me as their own. Even when returned from Israel on trial, They accepted me like the prodigal son.