Judo : Teddy Riner gets Legion of Honor!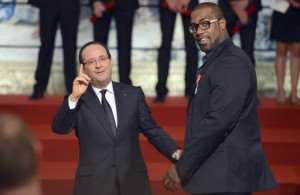 French President Francois Hollande (L) reacts with French judoka Teddy Riner, gold medallist at the 2012 London Olympic games, after he received the French Legion d'Honneur during a ceremony at the Elysee Palace in Paris March 1, 2013.

Other sportifs such as basketball players, runners-Olympic, swimmers Yannick Agnel, Camille Mufat and kayaker Tony Estanguet were also honored.