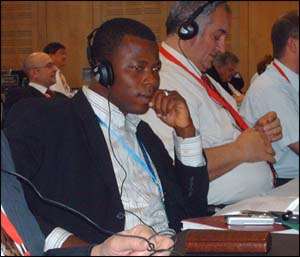 Mr Kamal Sulley at the congress. Officials of the Ghana Rowing and Canoe Association were in South Africa recently to attend the 2009 Extra-Ordinary Congress of FISA.
The congress, which was held from February 10 to 15 in Cape Town, witnessed the participation of top guns of the sport from across the globe.
In an interview with DAILY GUIDE SPORTS , Kamal Sulley, an executive member of the Ghana Rowing and Canoe Association who took part in the congress, disclosed that the event was indeed an opener for the Ghanaian delegation.
"We amended the FISA Constitution and voted new FISA executive into office.    
"The Technical Director of the Ghana Rowing Association Awudu Seidu Vawena and myself, represented Ghana at a meeting with the Commonwealth member countries of FISA," Mr Sulley stressed, adding that South Africa has been put in charge of monitoring the English Speaking African countries, as far as rowing is concerned.
"We in Ghana are therefore going to amend our constitution to suit international standards, as per the directive of the South African Federation (RowSA)."
Meanwhile, in a quest to improve the fortunes of the country at the next Olympic Games, the Ghana Rowing and Canoe Association has stepped up its activities, albeit with scares resources.
President of the association, Alhaji Gado Ibrahim told DAILY GUIDE SPORTS that executive members of his outfit would embark on a trip to Aneho (Togo) over the weekend, in order to hold talks with their Togolese counterparts on how to get Ghanaian rowers to train in that country.
"President Atta Mills, in his State of the Nation Address, mentioned that he wants to see the development of the lesser-known sports during his tenure. This has no doubt served as a morale booster to us, and we are going to help the current administration to achieve this aim by doing our bit as members of the Rowing Association," Alhaji Ibrahim said.
He however expressed concern over the lack of support.
"So far, it is only the National Sports Council (NSC) that has lent us some sort of support. You won't believe it but equipment sent to us by the International Canoe Federation are still locked up at the ports. CEPS officials have refused to release them to us. It is attitudes like these that hamper the progress of the lesser known sports," he lamented.
By Charles Nixon Yeboah