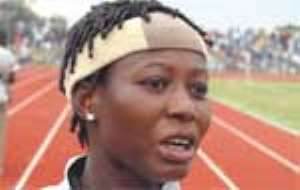 The senior national female squad, the Black Queens, the only unbeaten team in the ongoing Beijing 2008 Olympic Games qualifiers, last Sunday struggled to beat the Bayana Bayana of South Africa 2-1 at the Ohene Djan Stadium in Accra.
Accra Ghatel Ladies midfielder, Florence Okoe scored the winner in injury time to save the face of the Ghanaians. Prior to this, entertaining South African player, Veronica Celina had got the opener in the 13th minute after beating Queens' defence as well as advancing keeper Memunatu Sulemana.
Two minutes later, Queens' striker Rafiatu Rahaman had fetched the equalizer for the Ghanaians.
With this victory, the Black Queens would only need a draw when the team travels to play Nigeria in March next year for the final game of the Beijing Olympic Games qualifiers.
After the game, Queens' Assistant coach, Dan Owusu talked to DAILY GUIDE SPORTS about his team's hard-fought victory.
"It was a difficult win because with women even when they are given all the inputs in training grounds, it is always different on the match day."
He was optimistic that the Black Queens would live up to expectation when they play their Nigerian counterparts in March next year in the last game of the Beijing 2008 qualifiers.
According to coach Owusu, the team was able to identify its mistakes and was going to correct them before the next match.
"We thank all Ghanaians who came to watch the match for their wonderful support. We wish they will continue with the same support for the girls to achieve the ultimate," he said.
Coach Owusu disclosed to DAILY GUIDE SPORTS that striker Anita Amankwah of Ghatel ladies of Takoradi had been suspended indefinitely for indiscipline by the Black Queens management and the technical bench was working on Gloria Oforiwaa and Sheila Okine who did not feature in the game against South Africa.
He revealed that both players were good and that there was a good chance that they would feature for Ghana against Nigeria.
The Bayana Bayana coach, Ana Minati blamed her team's loss on luck.
"We could have won the game, but my girls failed to convert most chances that came their way. They lost concentration upfront which resulted in the last minute goal," she pointed out.
By Pierre Toto