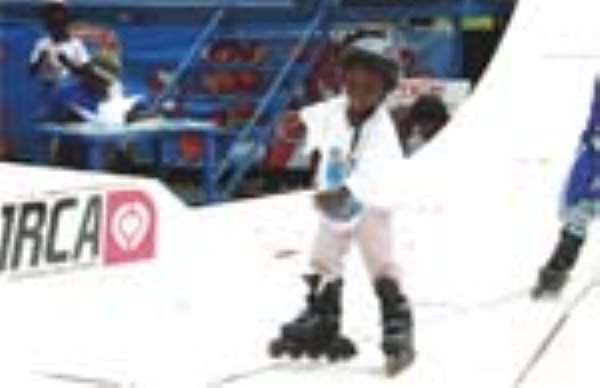 The second edition of Cowbell Skating competition sponsored by Promasidor Ghana Limited, producers of Cowbell Milk powder was held at the La Trade Fair Centre in Accra over the weekend.
Roller Skating is a sport that is popular among people of all ages and classes and is hugely popular in Western countries especially the United States where there are huge competitions for skating.
Even though a relatively new sport in Ghana, it is catching up especially with the youth and today there are a number of clubs in Accra with members skating on a regular basis.
The 2007 Cowbell Skate Fiesta drew children from various schools and skating clubs in Accra. The idea behind the skate fiesta is to create a platform where skaters can compete, exhibit their skill and learn from each other.
This year's competition had a total of 5 teams competing with each group made up of 6 members.
The main event saw Godzilla Skating club displacing No Fear to win the contest with 1542 points. Defenders took the third spot with 1225, followed by Lil Saints (1170) and Hustlers (1125) who took the fourth and fifth positions respectively.
The side attractions of this year's event were three-year-old Maame Esi Mensah of Absicans International School at Dansoman and Issa Osman, also 3. The pair thrilled fans with their skating skills.
Promasidor introduced ramp skating into the country two years ago and at present, it is the only skate ramp in the country which is sited at the Ghana Trade Fair complex and is open to the general public six days a week, free of charge.
To encourage people to learn the sport, Promasidor also provides free of charge, all the necessary equipment for patrons of the ramp.
By Kenneth Yankah