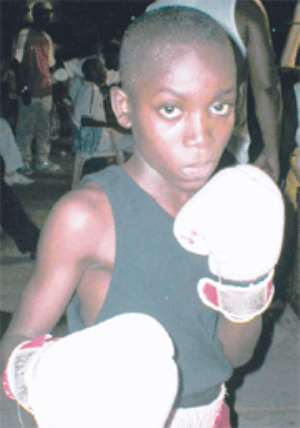 Spectators at last Friday's Greater Accra Amateur Boxing League bill staged at the Prisons Headquarters Canteen were left spellbound after Jerry Lartey and Rexford Lartey treated them to some good boxing.
Jerry and Rexford, both aspiring amateur boxers, attracted loud cheers from the fans when they entered the ring for an exhibition bout on the first day of the amateur boxing league.
Both boxers landed straight punches and hooks, combined with good footwork, to the admiration of all, including the judges who scored the bout a draw.
Speaking to the Junior Graphic after the bout, Jerry, 10, a pupil of Apenkwa Primary, revealed that he started boxing at the tender age of six and hoped to become a world champion in the future, just as his role model, Mike Tyson, did some years back.
Thirteen-year-old Rexford, on the other hand, started boxing at the age of five and is currently a Class Four pupil of the Flagstaff House Primary School in Accra.
"I want to be a great boxer one day and win many world titles," he told the Junior Graphic.
Rexford, who is a member of the Fit Square Boxing Gym, aspires to be like the WBC light middleweight champion, Oscar De La Hoya.