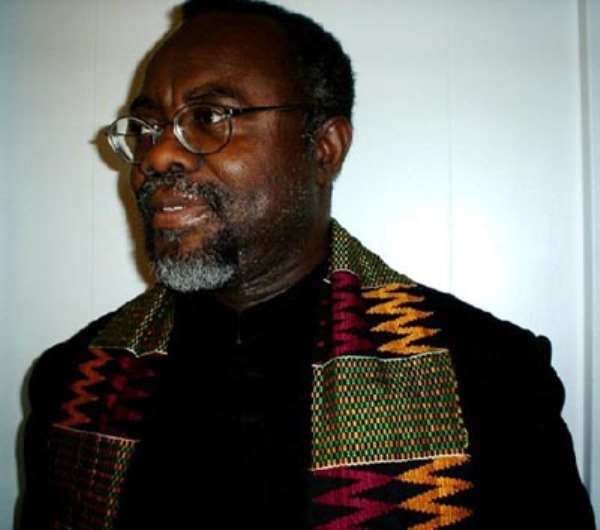 Author: Kwame Okoampa-Ahoofe, Jr., PhD
It is quite natural for a lot of allegations to swirl around any powerful and/or influential leader or ruler, traditional or modern, in Ghana and, indeed, the entire world at large. And, in fact, what I am presently writing about may be absolutely nothing new to the overwhelming majority of our readers. In the not-too-distant past, for example, I have heard the Akyempimhene of the Asante Nation, Oheneba Adusei-Poku, son of the late Otumfuo Opoku-Ware, II, repeat some of these same allegations and virulent accusations and denunciations of Otumfuo Osei-Tutu, II, publicly; so it is about time, in fact, well past time, for Barima Kwaku Duah, as the currently sitting Asantehene, His Majesty, Otumfuo Osei-Tutu, II, is known in private life, to come public to frankly and emphatically and definitively come clean by answering at least some of the most serious charges made against him, such as the Asantehene's having built a for-profit hospital in the post-Apartheid and post-Mandela South Africa.
I have also heard the Dauphin or Eldest Son of the late Otumfuo Opoku-Ware, II, frankly and publicly accuse the current Asantehene, largely based on rumors and hearsays, that is, Nana Adusei-Poku has either been apprised of or alerted about the fact of Otumfuo Osei-Tutu's owning a mansion in the Federal Republic of South Africa. This time, however, the sort of bitter public complaint that I am writing about came to yours truly in the form of a WhatsApp videoclip. It was actually a voiceover of what appeared to be well-spoken and well-bred Asante women of good cultural cultivation and even, perhaps, a bona fide member of the Manhyia Royal Family, with a pictorial background of a Black Stool and a scrim of Kente Cloth. And as many of our readers may already be intimately familiar with, the Asanteman Monarchy, as, in fact, it is the case with all Akan monarchies, is a Matrilineal Patriarchy.
What the preceding means is that although it is ascended upon – and here, I mean Sikagua Kofi or the world-famous Golden Stool – by almost exclusively the male members of the eligible Akan royal family clans, its authenticity and authority come from the female membership and the female lineages of the royal families. Thus, when an Asante woman of obvious royal descent comes "anonymously" public to virulently accuse The Asantehene, Otumfuo Osei-Tutu, II, of "Felonious Misdeeds," then, of course, it goes without saying that these grievous allegations and charges ought to be promptly and thoroughly answered and be done promptly so. For instance, if, indeed, Otumfuo Osei-Tutu, II, has built a hospital inside the territorial confines of the Republic of South Africa for commercial purposes, or even charitable purposes, he ought to have had some significant motivation for having done so that he is obligated to frankly and sincerely let on to the Elders of the Golden Stool and the constitutionally selected Councilors of the Asanteman Federation. To be certain, he should not have waited this long to be called unsavory names and be bombarded with maledictions before coming clean on the same, as New Yorkers are wont to say.
Personally, I am far more interested in the very serious allegation that The Asantehene had paid some $ 5 Million (USD) to the William Atuguba-headed Supreme Court Panel of Jurists that adjudicated the 2012 Presidential-Election Petition, in which the leaders of the New Patriotic Party challenged the election results and the scandalous declaration of victory in favor of the then-Interim President John Dramani Mahama. Not that revealing the truth at this point in time would change the results or what transpired ever since this most flagrant breach of protocol and the democratic rule of law and order. We already know about the quickly hushed up $ 400,000 (USD) question that reportedly led to the dismissal of an official of the London, UK, branch of the Ghana Commercial Bank that was widely and globally publicized by the British media.
To be certain, at the time, even yours truly penned and published several columns seeking to defend and protect the integrity of the Asante Monarchy, rather than stolidly pretend as if the widely alleged financial racket or scam between former President John Dramani Mahama and The Asantehene, Otumfuo Osei-Tutu, II, had not ensued or transpired. You see, we, bona fide Akan citizens and royals have always known that certain matters and questions are better not asked or vigorously pursued, if social and cultural harmony is to be healthily maintained and/or preserved. The contents of the WhatsApp videoclip discussed herein are 7 minutes and 50 seconds long, at least the copy that was sent to me; so one can almost bet their bottom-dollar that the presumably elderly Asanteman citizen or Manhyia royal member or denizen who recorded this videoclip seemed to be seriously concerned about the litany of complaints and grievances that she gravely leveled against Otumfuo Osei-Tutu, II.
That the still pictorial background or scrim that served as the symbolic context for the voiceover clip that eloquently and deliberately and systematically and meticulously laid out the charges made against The Asantehene, was a Kente-cloth and an official portrait of Otumfuo Osei-Tutu, II, seated either in council or at a durbar with the people, leaned against a traditional Black Stool, made these allegations all the more serious and worthy of a lengthy public discussion. Otumfuo Osei-Tutu, II, as many a Ghanaian soccer commentator is wont to say, "Nana Kumasihene, the ball is in your court."
*Visit my blog at: kwameokoampaahoofe.wordpress.com Ghanaffairs
By Kwame Okoampa-Ahoofe, Jr., PhD
English Department, SUNY-Nassau
Garden City, New York
April 5, 2020
E-mail: [email protected]