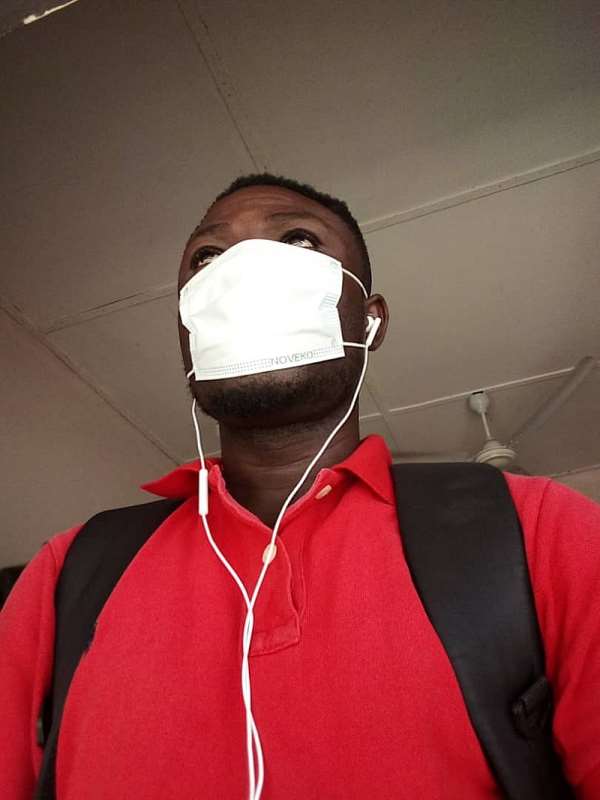 LET'S ADHERE STRICTLY TO THE PRESIDENTIAL DIRECTIVES GIVEN BY THE PRESIDENT OF THE REPUBLIC OF GHANA, HIS EXCELLENCY NANA ADDO DANKWA AKUFO-ADDO YESTEDAY 27TH MARCH, 2020, FRIDAY CONCERNING THE UPDATES ABOUT THE CORONA VIRUS PANDEMIC WHICH BECOME NECESSARY FOR SOME PARTS OF THE COUNTRY TO BE LOCKDOWN.
Fellow Ghanaians, good morning.
As a concern citizen, I would like to put this across.
First of all, with a great heart full of ecstasy, I would like to unpretentiously congratulates the President of the Republic of Ghana, His Excellency Nana Addo Dankwa Akufo-Addo for such a great speech delivered to the nation yesterday just to updates the citizenry concerning the nervousness in the country about how the country should be lockdown because our cases of the coronavirus pandemic keep on increasing prodigiously. As at yesterday around 8:30pm, we had about 137 cases of the coronavirus pandemic and 4 death. Indeed, I can say with all sincerity that, we have a listening president. At least we have been relieved of the agitations in the county as to whether the country should be lockdown. To me, the president has taken a hardheaded decisions by not locking down the whole country but rather just some portions that are highly affected.
The yesterday's nation address by the president is the fourth time, the president is updating his citizenry about the coronavirus pandemic. And I think he is doing well to that effect.
Now, let me go straight to the points why I said we should all adhere strictly to the presidential directives given yesterday about the lockdown of some parts of the nation.
To me, from today 28th March, 2020, Saturday, the followings places or areas that will be lockdown effective 1:00am on Monday, 30th March, 2020, the resident of these places should not plan of leaving those areas or places to a different locations which will not be under the two weeks lockdown. The reason being that, if these people started leaving those areas, then we are not going to achieve our collective goals as stipulated yesterday by the president of the republic of Ghana. If we are determine to fight this coronavirus once and fall all, then we all need to make some form of sacrifices thus by adhering to all the precautionary measures outlined by the authorities.
If they decided to move to places that are not going to be under the lockdown, then the spread of the coronavirus pandemic will spread easily like the speed of light. Before I proceed, let me mention some of the places that are going to be under the lockdown on Monday for two weeks subject to review though;
In Greater Accra, the following areas will be affected:
1. Accra Metropolis;
2. Tema Metropolis;
3. Tema West Municipality;
4. Ledzokuku Municipality;
5. Adenta Municipality;
6. Ashaiman Municipality;
7. Ayawaso East, North, Central and the Ayawaso Municipality
8. Ga West, North, Central, South, East Municipality.
9. Kpone Katamanso Municipality
10. Awutu Senya East Municipality.
In Accra we have about 26 places that need to observe the lockdown but I cannot mention all the areas so please bear with me.
In Kumasi Metropolitan the following areas will be affected:
1. Kumasi Metropolis;
2. Asokwa Municipality;
3. Suame Municipality;
4. Old Tafo Municipality;
5. Oforikrom Municipality;
6. Asokore Municipality;
7. Ejisu Municipality;
8. Atwima Kwanwoma district.
All hopes are not lost concerning the two weeks lockdown because, the president was pre-emptive by putting some measures in place. Some of these measures are; you can go out to get some essential items or commodities such as food, medicine, water, undertake banking, or use public toilet facilities. But, I would like to reprove our brothers and sisters in theses lockdown categories that, they should not abuse this freedom. They should note that, the two weeks lockdown is not two years lockdown.
To those who are cantankerous vehemently about the lockdown simply because they are of the view that, hunger will kill us if there is going to be a lockdown, I want to tell them that, measures have been put in place to that effect. I know very well that, their concerns are innocuous. This too shall pass! All hopes are not lost my people.
To the affected areas, please let's stick to all the preventive measures in the fight against coronavirus pandemic.
In summary, we should all observe personal hygiene and stay at home for the safety of all. Please if you notice any unusual feelings or symptoms, the best place to be is to visit any health facilities.
Call the emergency numbers that have been given out. The numbers are: 0509497700, 0552222004, and 05584439868.
For us to achieve this, I am of the view that, government should provide these places with enough water as far as the lockdown is concern. Because the lockdown will be unnecessary if our taps are not flowing in our cities. Mr. Government, water is life. We all know this but our water challenges in this county needs to be looked at.
All we need at this juncture is unity. Together we shall overcome this coronavirus pandemic too.
Long live Ghana!
Long Live Africa!!
Long live the World!!!
Credit: Francis Pious Egoeh