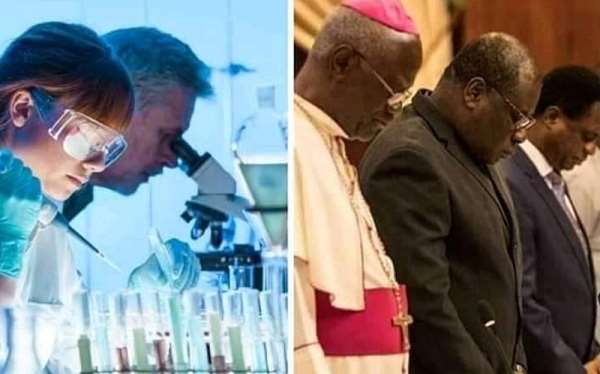 Good afternoon lovely people of Ghana. I hope the grace of God Almighty is sufficient for us all.
There has been a lot of agitations in the system when the President of Ghana (Nana Akufo Addo) had a breakfast meeting with the Christian Leaders last week just to intercede on our behalf concerning the fight against the Covid-19. After the said meeting with the Christian Leaders, a lot of Ghanaians took to social media to express their views on the aforementioned development by the President. Per what I have gathered so far, some were of the view that, we do not need prayers and others too were of the view that we need prayers at this trying moment. This means that, we are having two schools of thought on this subject matter. Thus, those who are advocating for science to be the only remedy for the fight against the Covid-19 and those who are also advocating for prayer.
My take on this subject matter is that we need the balance. I am going to vividly outline some of the reasons why I said we need the balance.
One of the reasons is that the human body has different parts or components. Thus, we have both physical and spiritual dimensions of the human body. So whatever that affects the human body needs to be tackled from these perspectives. It means we have to be tackling both the physical issues physically and the spiritual issues spiritually. So you will bear with me that, the physical issues need the scientific methodology and the spiritual issues need spiritual methodology as well. So when I say we need the balance, this is one of the reasons.
Note that, we can only find a lasting solution to a problem or a situation if and only if we know the root cause of the problem or the situation. To me, this Covid-19 has both spiritual and physical dimensions. Which means we have to tackle it as such.
Also, let's put our spiritual differences aside and help tackle this Covid-19 peril. Whatever your object of worship is, please pray for Ghana through such mediums. To all the Christians folks,Nana Addo Akufo Dankwa made it known to the general public yesterday (21st March,2020) that, Wednesday 25th March,2020 is declared as a National day of fasting and prayer. Let endeavor ourselves to be part of this crucial call for the benefit of this beloved country of ours.
In conclusion,this Covid-19 has both spiritual and physical dimensions and I think we are tackling it accordingly. So, please the prayer too is needed as our brothers and sisters in the scientific fields are also trying hard in finding a solution to this issue.
Lemme quote what Nana Addo Dankwa Akufo-Addo said during the breakfast meeting"I am confident that this morning's prayer, which will be offered in faith, will heal our nation, and we will help raise Ghana up. And I believe profoundly that we, the Ghanaian people,with our faith in the Almighty, will overcome this challenge. This, too, will pass."
Let's adhere strictly to preventive measures and keep hopes alive. Social distancing does not mean social isolation. Please be checking on your families and loved ones.
Together we shall overcome this peril too. Let's avoid the panic and fear.
Long live Ghana!
Long live Africa!!
Long live the World!!!
Credit: Francis Pious Egoeh
+233204744517/+233248188489