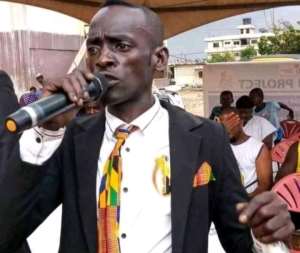 Hon. Aponkye
Trending No.1 on tweeter and placing 3rd with 9% out of 100% in an elections tells you explicitly how NOISE & byheart PROMISES is completely different from the REALITY of winning an election and it's my hope that people will learn from this goat.
His popularity should have won him the Presidency of Assemblymen if there was any position like that but he lost Brutally even though he had started fulfilling his daily coco promise.
If you ask me I'll say he just made the Assemblyman race more interesting and all we can do is to wish him better Luck next time.
We've had a candidate standing for elections in this country and not getting even 1 vote at the polling station he himself and his family voted at and had to do a recount looking for his personal 1 vote.
The last time I checked Ghana was still a very serious country when it comes to elections.
They can give you all the fans and accolades and on the D day show you their True colours.
Recently a candidate who promised cars and even brought them to the voting centres for distribution lost drastically and had to return his cars back to where he brought them from.
Sir John gave it a perfect description as in FEAR DELEGATES when he thought he was very popular with Noise and assurances yet lost miserably at the polls.
Folks like Kofi Wayo and a few went mute after learning their lessons.
Paa Kwesi Ndom who had created Jobs across the country and thought his salary earning workers will automatically vote for him still gets 1% in the general elections.
Fact is when it comes to elections in Ghana it is won on the ground and not on social media. I'll therefore edge all the Noise makers on social media to test their popularity with just an Asemblyman elections before thinking of an MP elections then they will Respect who ever is the President of this Country.
Likes & Views don't win elections in Ghana.
Next year is an election year and just like pigs that never learn we will definitely have more Noise makers making byheart Promises and in the end we'll make our individual choices silently.
#Election2020 #DecisionYear
#VhimMoveMent