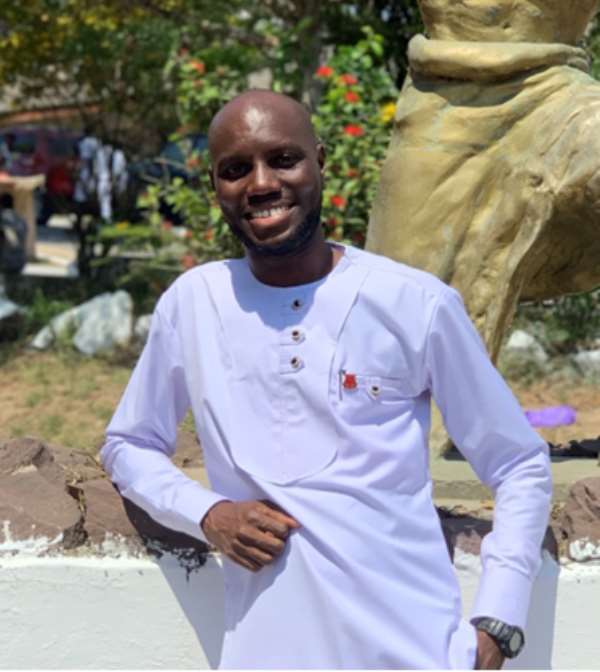 Cornelius Mensah-Onumah, The Author
Rehabilitation (short form, rehab) can be seen as any treatment programme usually undertaken in a residential facility for persons addicted to various substances like alcohol or illicit drugs. It can either be on an in-patient or out-patient basis, but research shows that the former is the most effective.
Rehab has become necessary because addicts may either end up in a psychiatric hospital; experience family problems; contract adverse health conditions; convicted to a jail-term - due to the likelihood of committing a crime; sinking into poverty or helplessness; or death. Whitney Houston, Diego Maradona, Kiki Gyan (of Osibisa fame), Okomfuo Kwadee, Tony Adams (Arsenal legend) and Adriano (Brazil football legend) are some of the stars whose careers were affected by substance abuse.
The 2018 Global Status on Alcohol and Health by the World Health Organization (WHO) estimates that, currently, there are some 2.3 billion people who drink alcohol worldwide, and over 3 million people died as a result of the harmful use of alcohol in 2016. In addition, more than 5% of the global disease burden is caused by the harmful use of alcohol, as over 200 health conditions are linked to it. These conditions range from liver diseases, road injuries and violence, cancers, cardiovascular diseases, suicides, tuberculosis and HIV/AIDS.
Also, about 271 million people, or 5.5% of the global population aged between 15 and 64, had used drugs in 2016, while 35 million people suffer from drug use disorders, according to the 2019 World Drug Report. The drug most abused is a synthetic opioids. In 2017, over 47,000 people died in the United States and 4,000 in Canada after they abused the opioid, Fentanyl and its analogues. In West, Central and North Africa, the synthetic opioid, tramadol - which has for decades being used as a painkiller, is the most abused. Because it is a prescription-only drug, it is being illicitly manufactured in South Asia and trafficked to African countries. In 2017, global seizures of tramadol reached a record high of 125 tons. This was after it rose from less than 10 kilograms in 2010 to almost 9 tons in 2013. Other drugs abused include cannabis, karts, cocaine, heroin, etc.
In Ghana, the use of illegal drugs and alcohol is endemic. Though the level of unrecorded alcohol consumption is high in the country, current data by WHO indicates that the prevalence of alcohol consumption is 23.3%, with alcohol per capita (APC) of about 20ltrs. Same can be said of illegal drug usage, as they are less reported despite the surge in the quantity being transited through the country been well documented. In March this year for instance, the Narcotics Control Board (NACOB) intercepted some 5,851 compressed slabs of what was suspected to be cannabis at the Tema Port. They described it as the biggest narcotics bust-up in the country's history. Also, during this year's International Day against Drug Abuse and Illicit Trafficking on June 26, 2019, NACOB destroyed 8 tons of impounded drugs. These drugs included tramadol, karts and cannabis, which were accosted from people at the various entry and exit points of the country.
Despite these problems, prevention and treatment of illicit drug and alcohol addiction continue to fall short in many parts of the world, with only 1 in 7 people with drug use disorders receiving treatment each year. This problem is more worrying in sub-Saharan Africa, including Ghana. This is largely because unlike HIV/AIDS, malaria and breast cancer for instance, drug and alcohol addiction is not seen as a public health issue. Therefore, little or no attention is paid to the treatment of addicts.
Not until recently that the Narcotics Control Commission Bill or "Narcotics Bill" was laid on the floor of Ghana's Parliament. If passed and signed into law by the President, it will repeal and replace PNDC Law 236 (1990), which criminalizes the possession and use of narcotic drugs, and also ensure that drug addiction is treated as a public health issue. An advocate of the Bill, Hon. James Agalga, who also serves as the Ranking Member of the Parliamentary Select Committee on Defense and Interior, earlier this year, described the incarcerating of persons addicted to smoking marijuana in prison, as 'inhuman'. In his view, these persons, rather being incarcerated need special help, and subsequently urged Parliament to pass the Bill as soon as possible.
The Bill provides that any person who commits the offense of "possession or control of a narcotic drug for use", will face civil penalties in the form of fine, instead of criminal, but a minimum of 10-years imprisonment for persons convicted of trafficking - i.e. those in "possession or control of a quantity of a narcotic drug in excess of a quantity which can reasonably be used by an individual in a day". Also, the Bill aims to create the Narcotics Control Commission, with a statutory objective of coordinating the treatment and rehabilitation of drug addicts. Its passage will make Ghana the first country in Africa to decriminalize the use of illegal drugs.
Though inadequate, rehab programs including group psychotherapy and detoxification clinics are available in the country. These are offered in three (3) large psychiatric hospitals – namely Accra Psychiatric Hospital, Ankaful Psychiatric Hospital and Pantang Psychiatric Hospital; three (3) teaching hospitals – namely Korle-Bu Teaching Hospital, Komfo Anokye Teaching Hospital and Tamale Teaching Hospital; and smaller psychiatric units in five (5) regional hospitals. Unfortunately, all three large psychiatric hospitals are located in the coastal south but the three teaching hospitals are spread across the country with one in the south (Accra), and the others in the central (Kumasi) and northern (Tamale) parts. Each hospital has at least one psychiatrist, with services consisting of inpatient and busy outpatient departments. For example, at the Korle Bu Addictive Disease Centre, it sees an average of 5 patients a day and currently has 10 staff with the Internationally Certified Addictions Professionals (ICAP I) certificates. The Centre offers counseling and treatment to all forms of addictions including alcohol, marijuana, tramadol, cocaine, injection pethidine, heroin, cannabis and nicotine.
It is also important to note that substance abuse is among the major causes of mental illness in Ghana. For example, in 2012, Pantang Psychiatric Hospital reported a total of 1,337 admissions, with the top five causes for admission being schizophrenia, schizotypal and delusional disorder, mental disorder due to cannabis, alcohol and psychoactive substances (Bone & Roberts, 2019). This makes it unsurprising that addiction is often contextualized within a public-health framework as inherently linked to mental illness. Also, the fact that most of the existing addiction services offered by state-run institutions are housed within mental-health facilities buttresses this position.
One major challenge facing state-run mental health facilities in Ghana is personnel. For instance, at the time Ghana became a lower middle-income country in 2011, she had 4.88 trained mental health staff per 100,000 population. This was below the 6.0 per 100,000 average of other lower middle-income countries. Currently, with the population of almost 30 million, the country has only 20 psychiatrists in active service, when she needs at least 100. Meanwhile, psychiatrists play an important role in the rehab process.
According to Bird (2019), community psychiatric nurses (CPNs) also offer psychiatric services in large parts of the country, and they can be found in 159 of the 216 districts. She observed that the level of knowledge and standard of care offered to people with mental disorders by general practitioners and primary care services is generally poor. She continued that general practitioners usually prefer to refer them to the few mental health facilities as they avoid seeing them.
However, in October 2019, some 21 professionals who treat or manage persons with substance-use disorders were trained on the Universal Treatment Curriculum (UTC) - a training curriculum to enhance knowledge and skill development of addiction treatment professionals. At the end of the session, Mr. Michael Addo, Deputy Executive Secretary of NACOB, disclosed that so far 80 professionals have been trained in the curriculum by his institution. These professionals include nurses, doctors, clinical psychologists and treatment center managers as well as reverend fathers, to help increase their insights into the most effective ways of managing addiction.
Apart from the state-run psychiatric facilities, non-governmental centers are also engaged in offering addiction treatment services. Majority of the rehab centers in Ghana are privately owned and funded by religious bodies. Bird (2019) observed that naturally, the source of funding shapes the treatment of drug addiction at these centers.
In all the non-governmental rehab centers surveyed, Bird (2019) found out that they employ the 12-Step rehab approach, which is a common practice across the world. Though millions of people have claimed to find lasting recovery from this approach, this however is not for everyone. The spiritual aspect of the program can be a stumbling block for some who wish to stop drinking, since it is based on the belief that for an addict to achieve abstinence, s/he has to surrender to a higher power - which in the case of Ghana, the Christian God. These centers also supplement the 12-Step approach with Bible teachings and prayer sessions, and often offer additional counseling (Bird, 2019). Example of these centers includes Compassion Rehab Center, House of St. Francis, Mercy Rehabilitation Center and Drug and Alcohol Free Awareness and Rehabilitation Centre (DAFAREC).
In addition, fees charged for receiving addiction treatment proves to be a major challenge for most addicts in Ghana. For example, at Compassion Rehab Center in Dawhenya in the Greater Accra Region, it charges GHS 2000 (approx. USD 360.00) per quarter. However, it waives all or a part of the fee in roughly a third of the cases reported every year (Bird, 2019). Also, Pantang Hospital charges GHS 2100 (approx. USD 370.00) per month at its main rehab center. While the recommended duration of inpatient treatment is a minimum of 6 months and maximum of 12 months, financial constraints force many patients to leave before completion, hence increasing the risk of relapse or not seeking treatment at all.
In conclusion, although all teaching and some regional hospitals in the country have psychiatric units, with many such units offering detoxification programmes and treatment for psychosis, most do not offer focused rehab programmes or ongoing addiction support. Bird (2019) realised that as a result, addicts who underwent treatment in these units reported repeated relapses following detoxification. Also, apart from the fees which are a challenge to most addicts seeking treatment, the stigma associated with attending a psychiatric institution also discourages many addicts from seeking treatment.
Notwithstanding the above, an addict's motivation to seek treatment is an important factor for the success of the treatment.
WORKS CONSULTED
Bird, L. (2019) Domestic drug consumption in Ghana: An under-reported phenomenon. Geneva: Global Initiative Against Transnational Organized Crime. Retrieved December 1, 2019, from https://globalinitiative.net/wp-content/uploads/2019/07/Ghana-Drug-Report-web.pdf#page21
Bone, T. A., & Roberts, M. (2019). An investigation into the routes to inpatient care at the Pantang Hospital in Ghana via the criminal justice system. Ghana Med J (53)1, 100-108. Retrieved November 28, 2019, from https://www.ncbi.nlm.nih.gov/pmc/articles/PMC6697773/pdf/GMJ5302-0100.pdf
Ghana News Agency. (2019, October 27). NACOB to beef-up services for substance use disorders. GNA, Retrieved November 28, 2019 from https://ghananewsagency.org/social/nacob-to-beef-up-services-for-substance-use-disorders-158680-amp.html
Korle Bu Teaching Hospital (2019, April 17). Korle Bu Addictive Centre sees facelift. KBTH, Retrieved December 1, 2019 from
http://kbth.gov.gh/korle-bu-addictive-centre-sees-facelift/
Mensah, M. (2019, March 14). Big narcotic haul - NACOB intercepts 5,851 weed slabs. Graphic Online, Retrieved November 21, 2019 from https://www.graphic.com.gh/news/general-news/ghananews-big-narcotics-haul-nacob-intercepts-5-851-weed-slabs.html
Osei, A. (2018, March 28). The Mental Health Act 846, six years on. Graphic Online, Retrieved November 28, 2019 from https://www.graphic.com.gh/news/health/the-mental-health-act-846-six-years-on.html
Ayamga, E. (2019, April 1). It's 'inhuman' to send wee smokers to jail - MP. Pulse, Retrieved November 21, 2019 from https://www.pulse.com.gh/news/local/its-inhuman-to-send-wee-smokers-to-jail-mp/fclt563.amp
UK Home Office (2019, June). Country policy and information note - Ghana: Medical and healthcare issues. UK Home Office, Retrieved November 30, 2019 from https://assets.publishing.service.gov.uk/government/uploads/system/uploads/attachment_data/file/812958/Ghana_-_Medical_and_Healthcare_-_CPIN_-_v1.0__GOV.UK_.pdf
UNODC (2019) World Drug Report 2019. UNODC, Retrieved November 28, 2019 from https://wdr.unodc.org/wdr2019/
Walker, G. H., & Osei, A. (2017). Mental health law in Ghana. BJPSYCH International (14)2, 38-39. Retrieved November 29, 2019 from https://www.ncbi.nlm.nih.gov/pmc/articles/PMC5618813/pdf/BJPI-14-38.pdf
WHO. (2018). Global Status on Alcohol and Health 2018. Geneva: World Health Organization.