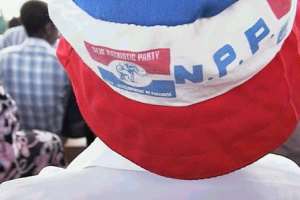 Fellow Ghanaians, happenings in this country of late suggest the New Patriotic Party, NPP government has seemingly suspended not only their superior competence they touted while in opposition, but their very cognitive abilities and general commonsense. There's a general feeling of gloom and a sense of deferment of hope in this country called Ghana recently. Which has thrown every patriotic citizen in a state of monetary disorientation and dislocation.
All of a sudden everything once deared to our dear country seems to have been fallen apart and thrown to dogs, under the watch of the New Patriotic Party, NPP. Sad.
Killings and kidnappings in the land seem to have become the country's best spot, too excruciating and unbearably beyond government's managerial scope and competence.
There have been unacceptable levels of unrebuked daily dilly-dallying of criminal cases involving public officers in this country to the amazing and unfortunate sashaying of these same officially hardened thieves. A serious open display of swagger of victory and jollification on the part of public office holders who have been "cleared", assisted and allowed to escape the heavy-weight of the law by the nation's "Clearance Agent" in the person of our dear President, His Excellency Nana Addo Danqua Akufo Addo.
Listening to the lawyer for Mr. Ajei Adjenim Boateng spoke, a torrent of tears protested to gain their independence and freedom from my eyes. I felt sorry for mother Ghana that she has actually nursed and bred her own murderers who are always responsible for her fatal, but constant bleeding. And the flagrant insensitivity of those at the helm of affairs is just incredible!
Indeed, this is the height of irresponsibility, a complete attack on the decency of our national values, and an insult and assault to our domestic space of intellection.
Strangely, the famously touted intellectuals' political party, the New Patriotic Party, has become bereft of ideas and intellectually lazy in their approach to the day-to-day governmental activities of the country. "No thinking is really going on here" to quote Mr. Senyo Hosi when he addressed the lecturers of University of Ghana.
The "chaotic resolution" sought to clean the financial sector has rather messed up the whole sector. Is it not interesting that a government that wisely and competently thought it was not okay to borrow from an International Monetary Fund which has the capacity to absorb the shocks of every country's economic challenges, will opt out of the IMF to rather descend on local financial institutions for the same borrowing which eventually collapses the domestic financial sector? Why would a government that rode to power on the back of jobs creation campaign deems it competent to use a whopping thirteen billion cedis (13 billion) to create fresh unemployment in the country by sacking bankers through revocation of Banks' and savings and loans companies' licenses when there were other better options to dealing with the issue, as said by the main opposition?
But you see, our men of old say the scrotum that may eventually develop into hernia shows its symptoms from cradle. In that case, mis-governance, political buccaneering and profiteering has just begun so long as President Akufo Addo continues to hold this country by the jugular with his alien rule.
The government, from the outset, promised to be a very scandalous one when the President made headlines during his inauguration on Aljazeera, CNN, BBC, and other global media outlets for not a good reason.
From financial malfeasances to general mismanagement; insecurity to injustice; from nepotism to arrogance of power and naked highfalutin, the NPP government deserves nothing but a gold medal for their routine defoliation, painfully, of our collective soul as a people.
Clean-minded Ghanaians should therefore note, that the activities of ATM politicians, political vultures, and general primitive wealth accumulators in this current government, would not go away anytime soon. God have mercy.
It is shameful that a party which climbed to political grace on the back of anti-corruption showmanship with unbelievable and unreflective sugarcoated campaign promises, can so quickly metamorphosed and transmogrified into the largest receptacle and a huge home for looters.
Indeed, everything is "double double", and Ghana will soon witness another one term President.
As if the country has waken up from its left hand side, Ghana's myriad of problems continue to increase day by day. A confirmation of the super incompetence of President Akufo Addo.
Which I dare say His Excellency President Akufo Addo must "step aside" and resign honorably from the Jubilee House. He is an underachiever and a colossal failure to leadership.
Bizarrely, corruption and unspeakable degree of heist has become the most cherished values with dangerous proportion of standoffish in the Akufo Addo government.
All the bad reasons trumpeted by the then opposition NPP that led to the political demise of the John Mahama led National Democratic Congress, NDC, have resurfaced with nauseating tendencies. There's a daily crescendo of mess in this country. Unfortunately, nobody is responsible for anything because there are some huge toes that significantly contributed to the success of the party when it was in opposition. Such individuals must be allowed to recoup what they dished out during the party's campaign days, and Ghanaians are dying as a result.
Ghanaians really have short memories but not in such a short period of time.
In addition to the corruption heritage of the NPP, the party has carved its own niche in the messing space. Since its inception the NPP government has supervised plenty of mess: ranging from the BOST saga, the Ameri deals, including the stolen and smuggled fertilizers of Planting for Food and Jobs, the renaming syndrome, the distasteful double track system introduced in our Senior High Schools which have totally undermined our second cycle education, to the latest Public Procurement Agency. Not to forget government's incessant borrowing, which it evangelised against whilst in opposition, to feed ineffective and most inefficient Guinness world record huge number of ministers.
Fellow Ghanaians, unless the God of our land is sleeping or ran for election, and may have been elected out of the office of Godly affairs, and the current God that is in power is not aware of what transpired in the last elections, which I doubt.
God would certainly bring every government of looters and liars masquerading as competent and sincere ones to account for the shenanigans they employed to beguile gullible Ghanaians into voting for them.
One-village-one-dam, one-district-one-factory, one-constituency-one milliondollars, can't certainly go free but with their accompanying one-day-one-scandal, and so shall it be one-term-one-president!
God Bless Ghana,
And Long Live us all.
The Writer, Iddrisu Abdul Hakeem, is a MasterCard Foundation Scholar (Alumnus) @ KNUST.
E-mail: [email protected]
CONTACT: 0557762967/
0261669954 (WhatsApp only)