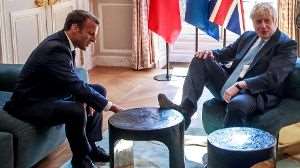 Boris Johnson makes himself comfortable in the company of Emmanuel Macron
The gesture drew much criticism: in the presence of the French president, Briton Boris Johnson placed his foot on a table. Now it came out that they were both joking.
That wasn't the fine English way: British Prime Minister Boris Johnson, known for his eccentric appearances, placed his right foot on the host's table for a brief moment during a meeting with French Head of State Emmanuel Macron in Paris on Thursday. The whole thing was obviously a joke between the two politicians. Macron burst into hearty laughter, Johnson immediately apologized with a smug expression for the flagrant gesture.
Everything was prepared for one of the usual statesman photos of summit meetings. In the room of the venerable Elysee Palace stood the national flags of Great Britain and France as well as the flag of the European Union. Macron and Johnson took their seats in front of it, on dark green armchairs, before the British Prime Minister placed his foot on the small side table.
The performance was also remarkable against the serious background of the meeting with Macron. Johnson had come to Paris to persuade Macron to make concessions on the Brexit agreement. However, like Chancellor Angela Merkel (CDU) before her, French President Johnson rejected the agreement.
Francis Tawiah (Duisburg - Germany)