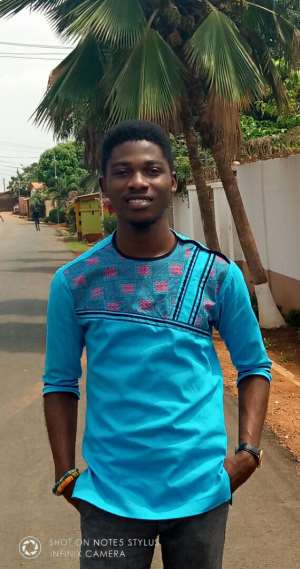 Yao Selorm Kuatsinu
To those of us living in the Global South, I believe our core responsibility is to find out novel ways or rather practical ways to do away with the socio-economic ills like poverty, inequalities, hunger, and poor health among others that plight us today and more so, secure future generations from their recurrence.
We can do it! For we have what it takes.
After all, the economies of the developed countries were largely built by our forefathers. Today, many sons and daughters of Africa have patents in their names and are leading professionals in their fields of endeavour. All it takes is the will to effect change and in a coordinated and concerted effort to make it enduring.
The Board, Project Team and Volunteers of the Nkosuo Initiative, are thus enthused and very encouraged by this nomination and recognition. We will endeavour to give our all during the pitching stages to win the Y Price Award. That notwithstanding, we acknowledge that this nomination is a good start, and believe that this platform will endear the Nkosuo Initiative Project to other funding agencies and sources. For this we say thank you to the Executive and Board of the Young African Chief Executive Directors Network (YACEDX).
The Nkosuo Initiative was envisioned by Mr. Joseph Dennis Nii Noi Quarcoo following his training on Policies, Strategies and Support Systems for Rural Revitalization in Israel, 2017. Today, it is a shared vision with a six (6) member Board, fifteen (15) member project team and over a hundred and twenty volunteers from different nations.
The Initiative is a Local Economic Development project with a clear aim, "To strengthen, increase and diversify the income of rural dwellers at Trotor and surrounding communities." The first phase of the community-based project (2019-2021) is witnessed by the cultivation and processing of vegetables, specifically, Ginger, Pepper, Turmeric and Cucumber into products for Ghana and its neighbouring countries.
This project is critical because over 200 smallholder cocoa farmers and their families within the project scope in the Eastern Region experience long periods of inactivity only few months after the Cocoa season due to the absence of alternative livelihoods. The Nkosuo Initiative is not only providing innovative leadership, but also building the capacity of the locals, creating new jobs including non-farm options, and ensuring significant market linkages which will outlive the project lifespan. More so, the initiative is creating mentoring opportunities for children and youth and, ultimately building a buoyant local economy within these rural communities.
With the absence of funding, the project team can only do so much with self-funding. We therefore encourage like-minded individuals and progressive organizations to partner us to create opportunities and bring lasting change to hundreds and eventually, thousands of lives across the sub-region.
Get interactive with us on social media. Don't forget to visit our site https://www.linkedin.com/in/nkosuo-initiative-foundation-ngo-7645aa191/
This speech was to have been read at The African Magnates Summit (TAMS), 2019