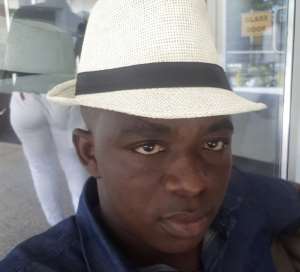 Author: Amankwa Benjamin Kwame
For the difficulty that attends the subject of religion and faith, and most importantly the fear of God, one ought to be careful when talking about issues of the divine. In this vein, it is important for a profession of faith as a sign of a believer, in line with scripture in Romans 10:10 (For with the heart one believes and is justified, and with the mouth one confesses and is saved) for me to profess my faith before continuing on this endeavor.
I will thus preface this piece by a profession of faith.
PROFESSION OF FAITH
"I believe in one God and his son Jesus Christ and no more; and I hope for happiness beyond this life. I believe in the equality of man, and I believe that religious duties consist in doing justice, loving, mercy, and endeavoring to make our fellow-creatures happy. Though it is necessary for every human not to blaspheme, since it is a sin against the almighty, it
is very important to the happiness of man, that he be mentally faithful to himself. Infidelity does not consist in believing or in disbelieving; it consists in professing to believe in things that we do not believe in".
Having thus professed my belief and trust in Jesus Christ the son of God almighty, I will proceed thus;
Since the time of Jesus Christ, prophets, priests, and servants of God have contributed to the spiritual nourishment and have given a sense of hope to humans. It is worth noting that, without most of these prophets, priests, pastors and priestesses, the suicide rate in the world would have doubled considering the unexplained happenings in our daily lives to which we constantly seek answers. The belief in God keeps many of us going. Even when we fall, we hope upon the one true God who sees everything and rewards at his time, to lift us up. It is thus important to pray for and thank the many good men and women of God and religious institutions in general not only for their spiritual duties but also for their contributions to national development.
What amazes me however is the reversal of the fortune of divinity and the commercialisation of the free spiritual gifts of God, the misleading of many, the false prophesies and the complete disregard for scripture in many religious institutions that call themselves churches today. According to scripture, "those who claimed to speak for God should be held to a strict standard of judgment. Even should an alleged prophet perform a sign or wonder or accurately predict the future, if he says "Let us follow other gods . . . and let us worship them" (Deut. 13:2), he is to be rejected (Deut. 13:3). Likewise, if the word he speaks "does not take place or come true, that is a message the LORD has not spoken" (Deut. 18:22; see also Jer. 14:14; 23:21, 32; 28:15; Ezek. 13:6). The punishment for speaking falsely in God's name was death (Deut. 18:20)". These teachings might possibly be around the background that prophets or those who claim to be doing the work of God are humans and can lead the flock astray. It also forms the basis of my interrogation entitled "the Jesus Industry". In 1 John 4:1 King James Version (KJV) the Bible admonishes us thus "Beloved, believe not every spirit, but try the spirits whether they are of God: because many false prophets are gone out into the world". This means that even the Bible recognizes the existence of false prophets and thus identifies the need for us to question (test the spirits) the actions and inactions of people who claim to be men of God or should I rather say God of men. From the simple practice of establishing a cult to extortion of property and wealth from innocent believers, today's god of men proclaim themselves as supreme. Some give themselves titles like angels, junior Jesus and turn the very banal into extraordinary. Have you stopped for a moment to interrogate your 'man of God'?
It is common nowadays to see 'men of God' sell blessed food, water and other objects at outrageous prices to their congregation and unsuspecting victims. It is now a challenge by men who insist they must be called 'men of God' to challenge each other on their wealth in material and physical properties. It is about the universities they have established, it is about the cars or the planes they have but not the number of souls they have won for Christ. It is about which political parties they support and how they cover or uncover their misdeeds. The funniest one I have heard recently is when two of the so called "men of God" trade blows in public over a preaching space. What a reversal of fortune. Are these scriptural? Are you testing the spirits?
What will Jesus Christ say when he rises up today? Moses when he rises up? Prophet Elijah when he rises up? They would be confronted with happenings they have not preached, heard or seen.
The lorry station and market place prophets and preachers first demand money before showing their ignorance in scripture. The commercialisation of the word and the world of God is alive and well in people who call themselves 'men of God'.
In 2 kings 5:14~16, Naaman's gift to Elijah was rejected but many at times do our priests, pastors and prophets pester us to buy them cars, buildings and even ask some of us to pay the school fees of their wards. Also in Genesis 14: 22~23, Abraham made it explicitly clear to the king of Sodom that he needs no gifts. But our 'men of God' depend not on God but on gifts for their very survival.
What a misfortune and a reversal of scripture to see wealth as a means of gaining spiritual authority and legality. Those who give more at our churches are appointed as deacons, elders and catechists. Even at the seminary, some have to pay money or copy to pass their exams. All these is because, when people invoke scripture, the congregation becomes frozen and we lack the ability to interrogate the issues raised. It is worth indicating that, I am not against giving gifts to men of God. In fact, they are part of society and they benefit from societal norms and culture. The exploitation of peasant farmers, market women whose poverty is displayed on their faces on Sundays as they struggle to dance to the offering bowl however is what afflicts me like a cancer.
Jesus Christ, the son of God did not only come to teach but left a legacy. Examples of the methodology he adopted abounds in the Bible. Though culture and environment may not make some of the examples directly applicable today, I have never read anywhere in the Bible where Jesus publicly jumped or slept on women who are pregnant and accident victims to get them healed. This is misrepresentation of scripture. Jesus never sold any holy water and anointed oil to heal people. Its falsehood perpetrated by commercial minds.
As Christians, Muslims etc., the holy books; The Bible, The Quran, etc. must be our guide. We must learn to interrogate and juxtapose everything that our religious leaders tell us with the provisions of scripture. Be guided by Scripture and Jesus Christ the son of the living God.
We must always remember, 'they are men of God' and not 'God of men'.