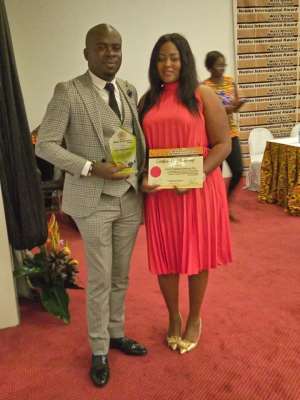 Prof. Nyarkotey Obu with Yvonne Dzifa Bedi
Prof. Dr. Raphael Nyarkotey Obu, who was recently conferred with the honorary professorship in Naturopathic Urology by the Vinnytsia State Pedagogical University has been inducted into the Prestigious West Africa Nobles Forum Hall of Fame and conferred with the title ' Noble'.
Prof. Nyarkotey Obu became one of the youngest professors in recent times in Ghana for his extensive research into prostate cancer in the black community and the promotion of evidence-based integrative Medicine.
Prof. Nyarkotey Obu is the founder of the RNG Medicine Research Lab and Nyarkotey College of Holistic Medicine. He is the developer of the FDA approved Men's Formula for prostate Health and immune booster, Women's formula and Nyarkotey Tea for Cardiovascular Health and general Well being
In a citation ' Dr. Nyarkotey Obu has defied all odds from an obscured Dangme land to a global recognized individual in the field of prostate cancer and Natural Medicine Research winning him several uncountable awards"
Prof. Nyarkotey has been at the forefront of prostate cancer research, advocacy, awareness, screening, and policies close to a decade now with several local and international recognitions at a young age of 34. He brought light and hope to the field of integrative medicine in Ghana.
The West Africa Nobles Forum is a group of eminent West Africans with a member of over 4,000. Sixteen Members were inducted into the forum including the Western Regional Minister.