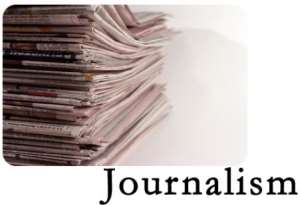 The recent treatment of journalists in the country has got me thinking, is it that they are over stepping their boundary, abusing their freedom of speech or it is just that they are speaking the truth we don't want to hear.
Journalism in Ghana before now was not journalism per say, we just go around reporting the surface without proper details or reviews. We sit at our radio and television stations and invite politicians over to come and shout, insult and defend their political parties. The majority of journalists were rather interested in reporting events or occasions. The result is that politicians and government officials are growing more powerful and corrupt. We make them believe they can do anything, pass any bill or policy without anyone coming to investigate to inform if what they are doing is in the interest of the people who voted them into power.
So our journalism front is own by politicians with loud mouths and the majority of journalist were just by the name and were doing virtually nothing in their space and capacity to help this country with facts and details that an electorate may depend on to decide who to vote for.
Then recently the country started waking up; the youths are seeing things clearly and journalists up and doing what they should have been doing long ago. But then since this is not in the interest of the leaders of the nation, bad things begun to happen to any journalist who would want to dig out the truth. Some died and a number of them face hammerings in the face of democracy.
The truth about democracy in this country is that there is no democracy. It is clear that our democracy has not been accompanied with complete panoply of rights which is associated with democracy in other countries. Apart from elections being free and somehow fair, citizens and minority groups are routinely victims of civil rights violations,
subject to harassment and discriminated against in the courts.
The exercise of political power in the country has not limit, not even in the face of the rule of law. Individual rights and freedom are hardly recognized and protected. Making the politician the most powerful person and the minority and the poor have become the frequent targets of harassment by the same laws made to protect them. The system of government is such that these minority groups do not face equal treatment from the state.
We end up having a democracy which is not liberal but illiberal, partial democracy, empty and guided democracy. A system which although elections take place, citizens are cut off from knowledge about the activities of those who exercise real power because of the lack of civil liberties.
Journalism in this type of democracy is nothing but a crime because the purpose is to keep citizens in the dark and the only thing that can be a hindrance to this purpose is the journalist, whose job is to go find out and report to the citizens. There are people in power who don't want this nation to develop, they find fulfillment in making themselves rich and are ready to go to negotiation tables with their own stomach to feed, they are ready to sign contracts that benefits them now and are ready to agree on building a new parliament when the road leading to their constituencies and hometowns are in bad shapes and when the children of the people who voted for them are schooling under trees or buildings that are in a bad shape.
In a way, it is not surprising seeing the ordeal journalists are going through, now that it may seem they are awake and ready to do their job in building the nation. Journalists become threat to their success because it is their job to feed the people with the truth and if the truth about who they really are is known by the electorates, people like Osei Kyei Mensah-Bonsu would not have been a member of parliament in the first place not to talk of the other offices he handled.
There is a new wind coming, this should serve as a wakeup call to every Ghanaian who cares about the next generation of this country and to every journalist out there, this is the time we need you. It is time we do our jobs, everyone playing part he or she needs to play and get our leaders to know that they are not as powerful as they think, let them know that we are tired of the slavery they are putting us through since independence and let them know that it is the development of the country we want and if they are not ready to give us that, they should step aside and stop wasting and corrupting the power we have given them.
Thank you for your audience.