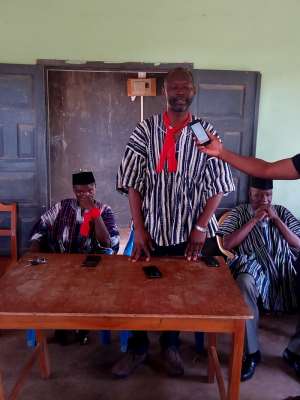 Hon Sebastian Sandaare
The Member of Parliament for Daffiama-Bussie-Issa constituency, Hon Sebastian Sandaare yesterday Sunday visited some parts of the constituency to calming down nerves of some party executives and supporters who are expressing their anger over the gruesome murder of Mr. Richard Bayiviele Puolabong, chairman for National Democratic Congress in the Daffiama-Bussie-Issa constituency.
Many of the supporters and party leaders around could not their tears creating, as they wept including the MP who came to sympathise with them to stand strong.
Interacting with the party supporters who massed up at the Daffiama area council, the MP admonished all to exercise constraints as investigation is being conducted by the Ghana Police Service.
He added, "I am ready to support the security agencies to conduct a vigorous investigation and to possibly arrest the perpetrators of this dastardly act".
Speaking while in tears, Hon Sandaare mentioned that the chairman was killed in his line of duty for the party and the entire NDC in the constituency is deeply devastated.
"A great party leader is gone," he lamented.
He encouraged members of the party not to give up what they started with the late Chairman before his untimely death.
According to him, the only way to appease the soul of the late chairman is to ensure that justice is delivered and the perpetrator be arrested and prosecuted.
He urges members to continue to work to bring the NDC back to power because from where the slain Chairman left off.
The former District Chief Executive, Hon Fedelis Zumakpee, Former Member of Parliament, Hon Mathias Puozaa, Hon Batholomy, and all the NDC Constituency Executives for Daffiama-Bussie-Issa were all present.
The team led by the Member of parliament also visited Bussie and Fian zones for similar purposes. Other zones to be visited by the Member of Parliament and his team are Issa and Kojokpere zones.
On Wednesday 8th May, 2019, around 9:35 to 10:00pm, the entire Upper West Region, particularly the people of Daffiama-Bussie-Issa were shocked over the news of the murder of Chairman Richard Bayiviele Puolabong.
The late Chairman was returning from a funeral in his constituency with some other executives when some unknown assailants stopped his car and shot at him leading to his death around a village called Sagu, along the Wa-Hain road. The driver of the car also sustained some gun wounds. Three other persons who were in the car were not affected.
The police has since been investigating the matter while the body of the late chairman is deposited at the Wa Regional Hospital Mortuary. Funeral arrangement are still under.