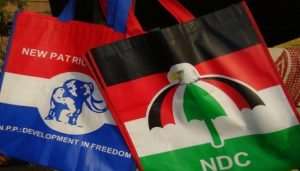 Folks, let's be blunt to say that a lot is floating around at the NDC front to create the impression that new entrants into the race for the party's flagbearer position could make the party stronger and more endearing to the electorate than the known face of John Mahama that is imprinting itself again for re-election to knock out the NPP's Akufo-Addo at Election 2020.
Many aspirants for the flagbearership are lined up against Mahama, most of whom were his appointees. Be they Ekwow Spio-Garbrah (in charge the Ministry of Trade), Sylvester Mensah (in charge the National Health Insurance Service), ASK Bagbin, or just any of them, the impression so far registered is that they are at daggers' end, making all kinds of manouevres---much of which is pin-pointedly targeted at undermining Mahama---to present themselves as capable hands that could help the NDC regain political power.
Others not known as former Mahama appointees are among the lot, stepping out to try their luck but heavily invested in the anti-Mahama political rhetoric as if it will reap voter goodwill for them.
So far, 12 of such aspirants have emerged, which is a record in the history of the NDC. Ever since its emergence, the party hasn't had so many people seeking its flagbearership at the general elections. As to why this record is being set now, I can't tell; but I can deduce from it that the NDC has grown. It suggests how much interest it has aroused and why it can't be dismissed as a mere irritant in Ghanaian politics. Good.
It also suggests that there is much accommodation and internal democracy---something that never existed in the era of strong-arm politics under Rawlings. It suggests also that the party has grown and will continue to grow into its own for as long as it creates room for its members to assert their worth and prove that they can represent its interests at the national level by locking horns with rival political forces.
Never before has it happened that the NDC could have so many of its stalwarts lining up against each other for the nod of the party members to bear its flag at the level of Presidential Candidature. Thus, what is emerging is laudable for as long as it registers the party as mature or maturing, outgrowing the era of "one-man-show".
Beyond this level, though, is the hidden cloak-in-dagger aspect that has the potential to do harm. And I am here poised to pinpoint the over-concentration of attention on John Mahama and the schemes aimed at damaging his interests.
The thrust of the campaigns by his opponents has revealed much about their penchant to portray him as a danger to the NDC and to suggest that picking him for Election 2020 will keep the NDC in opposition. In effect, they are of the opinion that they, not Mahama, is fit for the flagbearer position. I strongly disagree with them for many reasons, much of which I have already stated in previous opinion pieces to suggest that their angling for recognition is premised on falsehood and mischief, which won't do them or the NDC any good.
Truth be told, none of the 11 or so aspirants has the stature that Mahama has cultivated to position the NDC as a strong force to reckon with. They may be bulldozing their way through the political terrain, supported by disgruntled, petty nit-picking followers but they can't claim to be the face of the NDC among the large segment of voters. Who knows them for anything beyond their small circles in the NDC?
John Mahama is a force that every Ghanaian knows for weal or woe. The fact is that those who know him for woe are fast comparing notes in terms of their experiences under him and now under Akufo-Addo to make informed conclusions on how they will behave on election day. They have little room for Mahama's opponents in the NDC making ugly noise just to be published in the news media but not really connected with them in any way.
All I am saying here is that none of those expending energy and resources in the NDC circle to outdo Mahama can make it beyond their narrow confines to make the NDC adorable to the electorate. They are mere pesky bugs that are running around, making all the ugly noise just to suggest that they are members of the NDC. Ghanaians don't recognize them as a better replacement for the NPP that is tormenting their lives. Neither do they come across as capable hands to improve circumstances if voted into power.
When they played their part as appointees of Mahama, they did little or nothing to register themselves as problem solvers. What have they added to themselves thereafter to prove that they can do so if voted for as the President of Ghana?
On the contrary, Mahama still stands tall above them. The challenges that made the voters turn against him still exist in the country (if not worsened by the inability of his detractors now in power to tackle them because they lack the acumen to do so).
Mahama has been tested and is being vindicated by the poor performance of team Akufo-Addo within the context of the very issues that the NPP raised against him and promised to tackle but cannot. The truth is that Mahama has a huge head-start advantage and can be accommodated by the electorate to return to power and make the difference. Those untried and untested elements in the NDC seeking the flagbearership are novices that the electorate can't relate to in this circumstance.
The NDC will be making a terrible mistake to ditch Mahama and go for any of these untried and untested elements. As the situation stands now, Mahama has the best chance to give the NPP the scare that it fears at the polls. Why not go for him instead of risking the NDC's political viability by "trying" the untested aspirants? A loss at Election 2020 will "scatter" the NDC all the more, which those loud-mouthed but empty noise-makers should take note of. How much political mobilization do they do for the NDC, anyway?
Those claiming that Mahama lost Election 2016 and shouldn't attempt presenting himself for consideration to lead the NDC to Election 2020 (as retired Brigadier general Nunoo-Mensah and Ken Dzirasah have suggested) need to do a lot of political thinking if they truly love the NDC. What is strange about this situation?
Many politicians who lost bids of this sort have rebounded and won the support of voters on the basis of happenings to suggest that they can do better than those put in power. I don;'t see anythjing strange about Mahama's bid to return to power, especially given the glaring fact that his NPP opponents haven't made good all the bombastic boasts of outdoing him. The evidence is glaring.
I urge the NDC followers to use their heads (reason) and not their hearts (emotions) in approaching issues. If they do so, they should see thing the way some of us do. The incontrovertible fact as of now is that John Dramani Mahama stands tall as the obvious choice to lock horns with the NPP at Election 2020.
I am happy to note here that before declaring his intention to go for a second bite of the cherrie, Mahama had met Rawlings to make his intention clear. Although Rawlings has been a fierce Mahama critic, he said nothing negative during the interaction, which suggests that he endorses Mahama's declaration (even if he has any hidden support for Joshua Alabi or any of the other aspirants).
Knowing Rawlings for what he is, I can say much to the effect that if he had anything damning about Mahama or if he didn't support Mahama's bid, he would have said so. Thus far, he hasn't, which suggest to me that he sees Mahama's bold step as assuring for the NDC's good. In that sense, then, it is fair and proper to conclude that Mahama has taken a step forward to repair whatever damage he might have earlier caused to hurt the NDC's political fortunes. None of those running around has the clout.
That is why it is important that those who wish the NDC well should be guarded in their public utterances and inner-circle manouevres. Those who claim to love the NDC should do all they can to grow it and not to destroy it.
I am persuaded by evidence that when the NDC leaders and followers put the past behind them and resolve to work for the good of the party and Ghana, they can move the electorate to boot out this lame-duck Akufo-Addo government from power. To me, Ghana has a better opportunity to get out of the woods under an NDC government than this "family-and-friends-Mate-Me=Ho" trash selling Ghana to China. No more.
All those seeing things beyond their noses should come onboard. The battle to remove the NPP from power must begin from within. Hoododiooooooo..... Hoooooo!!
I shall return…
By Dr. Michael J.K. Bokor
(E-mail: [email protected] )
Tuesday, September 11, 2018