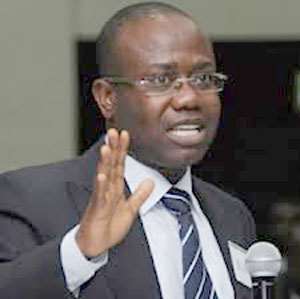 Kwesi Nyantakyi
Folks, the former GFA Chairman (Kwesi Nyantakyi) opened a can of stinking worms when he revealed the bribe-sharing formula of 5-3-2-1 under Akufo-Addo as captured in the investigative work done by Anas Aremeyaw Anas and shown to the world. And did that revelation not spark public concern (beyond interest) about happenings? Yet, many months thereafter, Team Akufo-Addo hasn't done anything to prove Nyantakyi wrong or to assure Ghanaians that the fight against corruption is on course. And Ghanaians know a lot on this score to ponder.
How can a politician who rode to power on the basis of his determination/resolve to fight corruption in Ghana and whose name (together with those of his henchmen) was loudly mentioned by Kwesi Nyantakyi not move fast to get the matter probed and the culprits punished?
How come that Akufo-Addo would rush to set the police CID on Nyantakyi, ordering his arrest and removing him from post (not to talk about disbanding the GFA) look on while the matter is pushed under the rug?
Does such a person have any conscience at all to insist on establishing the so-called Office of Special Prosecutor only for that Special prosecutor to lie idly and spend his time writing opinion pieces on corruption in Ghana and not going after anybody?
What sort of character will behave this way just for political expediency?
No wonder, the trails/traces left behind by Nyantakyi and Co. are being busily removed (covered up) by the very people expected to act against them.
And now, the most porous defence for such criminal liability has come from none other but the Attorney-General and Minister of Justice (See: https://www.ghanaweb.com/GhanaHomePage/NewsArchive/I-ve-not-received-any-docket-to-prosecute-anyone-in-Anas-expose-Attorney-General-680910 ).
If you are in doubt, read carefully this part of her claim: "... she has not received sufficient material to prosecute anybody following the Number 12 expose` by investigative journalist, Anas Aremeyaw Anas....
"... she has not received any docket from the Criminal Investigation Department (CID) to prosecute it. ''I have not received any docket for prosecution. It will be recalled that when the issues started, the CID started a probe. The probe is still on going and when they forward anything to me, I will look at it,'' she explained."
Or this blatant one that forecloses the case against Nyantakyi: "There is no evidence to initiate criminal prosecution against former Ghana football boss, Kwesi Nyantakyi" (See http://www.peacefmonline.com/pages/sports/soccer/201809/361890.php ).
If there was no evidence to begin with, on what basis did Akufo-Addo order the CID to arrest Nyantakyi and charge him with the criminal offence of "defrauding by false pretences" (which the CID complied with only to release him for this "wagadri" business of lie-lie to be done?).
And to imagine that Nyantakyi sought to drag innocent John Mahama into this disgraceful scenario!! I wasn't bothered when he did so because I knew it won't take long for him to eat back his own purulent vomit and free Mahama from the orchestrated mess. And, boy, was I not right?
The evidence on which he should have pinned down long ago came from him. His own statement to the police said it all. But as is characteristic of inexperienced thieves, liars, and murderers, they can't cover up their traces. The stench is too overpowering, which makes me wonder why there is much foot-dragging going on. Of course, Nyantakyi is in Akufo-Addo's inner circle and will spill the bitter beans if taken to task.
Which other evidence did Akufo-Addo use to get Nyantakyi arrested, interrogated, and released? Not the snippets of the Anas investigative work? And why isn't the evidence therefro0m isn't valid anymore to warrant Nyantakyi's being prosecuted together with all those caught in the act?
And if there was no evidence, after all, why did the government dissolve the GFA following Anas' work?
What evidence again do the CID need to build a complete docket against Nyantakyi and Co.? Hasn't Anas already given them the recordings? Hasn't Nyantakyi himself admitted the acts of corruption in his statement to the CID?
And is it the responsibility of the A-G's office to ensure that the CID people do their work expeditiously to enhance trial of cases, especially high-profile ones of this kind in which Akufo-Addo, Bawumia, and others have been mentioned as beneficiaries of the 5-3-2-1 bribery sharing formula?
Does the A-G's office not know how damaging this Nyantakyi case is to Akufo-Addo's reputation? Why sit back and not press hard for the matter to begin being prosecuted?
And Akufo-Addo himself thinks that by merely hopping about, declaring himself as neither corrupt nor corruptible while those in his inner circle indulge in massive corrupt deals he will be respected and believed?
Folks, we are not surprised that there is much foot-dragging going on. We have all along insisted that Nyantakyi has deep connections in the Akufo-Addo circle and will walk away scot-free. Nothing surprises us that the matter has virtually been swept out of public discourse. No docket, no trial; not so?
I shall return…
By Dr. Michael J.K. Bokor
(E-mail: [email protected] )
Sunday, September 2, 2018