Comoros votes in referendum on increasing president's powers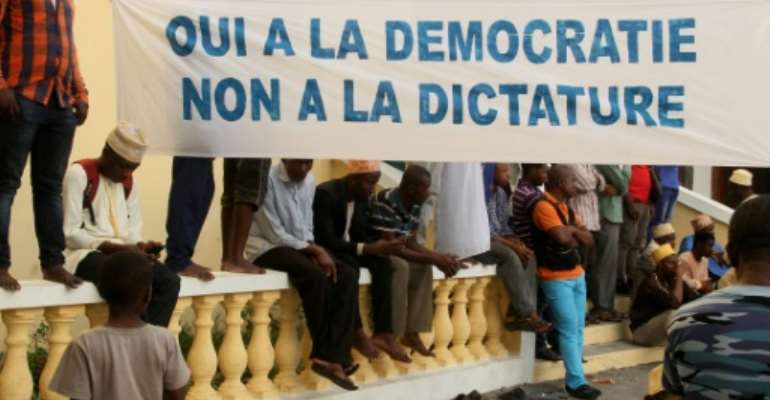 Voters in the Comoros went to the polls Monday in a politically explosive referendum that could change the constitution and allow President Azali Assoumani to rule beyond 2021, his current term limit.
Voters were scarce at several polling stations in the capital Moroni as the day began, AFP reporters witnessed, as opposition leaders called for a boycott of the referendum.
"I voted 'Yes' because there's the promise of change with new faces and a state that's less bloated," said Soilihi Ali Said, a voter in his forties in the capital Moroni which on Monday was in the grip of a general strike.
The Indian Ocean archipelago has a long history of instability. It risks renewed unrest after Assoumani banned demonstrations and the opposition vowed to fiercely resist the proposed changes.
Two ballot boxes were destroyed in a polling station in the Hankounou district of Moroni, an AFP team saw, with blood-stained shards of plastic scattered on the ground after an apparent scuffle.
A police officer was injured with a blade in the incident and hospitalised, according to a security source.
'United against the dictator'
"These are isolated cases," said Assoumani who added there had also been "one case" of trouble on the island of Anjouan but played down the incidents when he spoke in his home village of Mitsoudje in Moroni's south.
Opposition lawmakers had demanded an "unconditional halt (to) the illegal process" of the referendum, which they say is a power grab by Assoumani.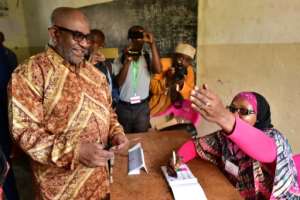 President Azali Assoumani at a booth in Mitsoudje outside the capital Moroni. By TONY KARUMBA (AFP)
"The opposition is united against the dictator," said Ahmed el-Barwane, secretary general of the opposition Juwa party.
Under the current constitution adopted in 2001, power rotates every five years between Comoros' three main islands as a means of balancing politics in the coup-prone country.
If the government wins the referendum, this arrangement would be scrapped and replaced by a president who would be elected for a five-year tenure, renewable for one term.
'Reject the dangerous abuse'
Assoumani would also gain the power to scrap the country's three vice-presidencies, another balancing measure of the present constitution.
If the referendum is approved, Islam would also be proclaimed the state religion for the first time. Ninety-nine percent of the Comorans are Sunni Muslim.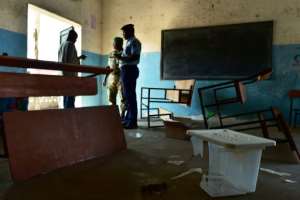 Police officers at the Hankounou polling station where ballot materials were vandalised. By TONY KARUMBA (AFP)
In June, one of the vice presidents, Ahmed Said Jaffar, urged Comorans to "reject the dangerous abuse" of power. He was later stripped of all but one of his ministerial portfolios.
If Assoumani wins the referendum, he is expected to stage early elections next year to try to extend his time in office. But he has vowed to stand down if he loses Monday's vote, according to his spokesman Mohamed Ismailla.
Volatile history
A group of three islands between Mozambique and Madagascar -- and one of the world's poorest countries -- the Comoros has endured repeated coups and political turmoil since independence from France in 1975.
Assoumani, a 59-year-old former colonel, was president between 1999 and 2002, coming to power after ousting acting president Tadjidine Ben Said Massonde in a military coup.
He won the country's first multi-party elections in 2002, stepping down in 2006 to hand over power democratically to Ahmed Abdallah Sambi.
In May 2016, he returned again as president after an election marred by violence and allegations of voting irregularities.
In April this year, Assoumani suspended the Constitutional Court saying it was incompetent.
Earlier this month, one of the vice presidents, Moustoidrane Abdou escaped an assassination attempt when his car was attacked by motorcycle gunmen.
The three main islands of the Comoros -- Grande-Comore, the largest, and where Azali is from, Anjouan and Moheli -- have a population of around 800,000 people. The fourth island, Mayotte, remains French.
Polls are due to close at 1300 GMT and the referendum results are expected Monday night or Tuesday.