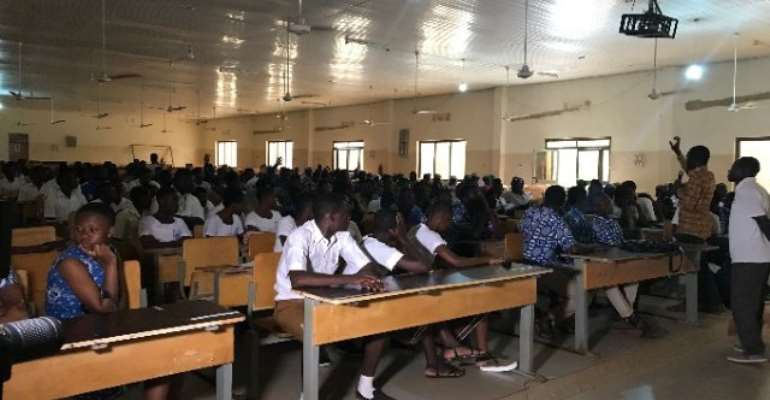 Former National President of the Peasant Farmers Association of Ghana Mohammed Adams Nasiru has dismissed concerns Genetically Modified Foods (GMO) are harmful to humans.
In a clear deviation from the position of the association he used to lead, Mr. Nasiru insisted GMOs don't pose any danger to humans and no one has ever died from eating them all over the world.
The Peasant Farmers Association of Ghana has claimed "GMOs are dangerous to health and a leading cause of carcinogenic diseases.
But Mr. Nasiru disagrees. "I am very comfortable with GMOs… Because the motive of companies like Monsanto (which produce GMOs) is to be in business and make profits. Why would they want to kill their customers to go out of business? So I don't think there is any harm in going GMOs," he noted.
"I just want to appeal to all and sundry, let your parents know that GMOs are not dangerous. If you don't know the science, you don't know anything. We want good yields," Adams Nasiru added.
He was speaking during a panel discussion after the screening of science movie 'Food Evolution' on the campus of the University of Development Studies at Nyankpala in the Northern Region.
'Food Evolution' explores the brutally polarized debate that the introduction of genetically modified organisms (GMOs) into the world's food chain has generated over the years.
The screening and panel discussion organized by civil society group Alliance for Science Ghana and the Biotechnology Students Association of Ghana (BIOSAG) was under the theme; "GM Foods; Hunger Killer or Human Killer?"
The event sought to discuss the benefits and possible negative implications of GMOs as Ghana prepares to commercialise them.
Plant Breeder at the Savannah Agric Research Institute (SARI) of the Council for Scientific and Industrial Research (CSIR) Dr Emmanuel Chambas explained no locally produced GMO crops are on the market yet.
Dr Chambas who leads work on GMO cotton trials in the country assured GMO products are produced with the intention of enhancing agricultural production.
"We are doing the changes because we want desired, beneficial products," he said.
Another panelist Abdul Rahman Dobea who works with the Tamale Metro Agric office backed the claim that GMOs are not harmful.
"There is no evidence that if you eat GM foods, it causes any abnormality in your system. The purpose of GM is to increase productivity and ensure quality nutrition. These are the main reasons why I think we should embrace the technology," he said.
Obed Amissah of Alliance for Science Ghana also dismissed claims GMOs are bad.
"The scientists who brought the technology saw a problem. When you look at food security, a time is coming when we will not be able to feed the population because of climate change. That is the challenge that is being fixed with GMOs," he noted.
"It is not about scientists being greedy for money. It is about scientists trying to find a way to support livelihood by producing foods that will last. Foods with long shelve lives. So these are what the GM technology is about. It is about bringing technology to solve problems," Mr Amissah added.
President of the Biotechnology Students Association of Ghana – UDS Nyankpala Campus Samuel Oppong described the Food Evolution movie as a good and educative piece. He also described GMOs as "a saviour" that will revolutionarise agricultural production in the country when they are commercialized.