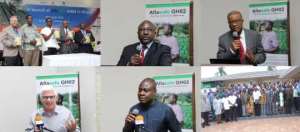 Aflasafe GH02, a new agricultural bio control product to help manage aflatoxin contamination in crops and poultry was launched in Accra to ensure food security and food safety in Africa including Ghana.
Aflasafe GH02, developed by International Institute for Tropical Agriculture (IITA) and its partners, contains native non-toxic strains of Aspergillus flavus that out-competes toxin-producing ones when applied in the field.
Aflatoxin is a poison produced by the fungus Aspergillus flavus, which resides in soil and infects crops in the field.
Abdou Konlambigue, Managing Director, Aflasafe Technology Transfer and Commercialisation (ATTC) and IITA, said they collaborate with the private sector to organise series of training sessions across the region to equip extension officers, who are closer to the farmers to instil best agricultural practices among the farmers in addition to the application of the Aflasafe GH02.
He said it is important to intensify awareness interventions on the product as well as mobilise farmers to understand the issue.
'We need to demonstrate the efficiency level to let them know the product is working. IITA will be on ground to ensure that the right things are done,' he added.
He said this session they would be working with only farmers from the three Northern Regions and would move to Brong Ahafo and the rest of the regions during the minor season.
Professor Richard Awuah, Former Dean, Faculty of Agriculture, Kwame Nkrumah University of Science and Technology (KNUST), Kumasi, said a research conducted revealed that aflatoxin contaminates up to 65 per cent of maize and groundnut crops.
He said apart from the health hazard, aflatoxin contamination have effect on trade and thereby reduces profitability level of the farmers.
He said some common aflatoxin substrates include groundnuts, maize, sorghum, fish, urine, faeces, human semen and chicken.
Professor Awuah noted that high of aflatoxin in human blood put the people at risk of having liver cancer and emphasised the need to collaborate with IITA to promote Aflasafe GH02 to manage aflatoxin contamination.
Dr Rose Omari, Senior Resident Scientist, CSIR-STEPRI, said Ghana has no problem with agricultural policies but how to enforce implementation of those policies becomes an issue.
She, therefore, emphasised the need to link scientists' research to what the farmers are doing to achieve the necessary results as well as bridge the communication gap.
She also urged the government to adapt ECOWAS Action Plan on Agriculture to the country's context to guide as to how to control aflatoxin in Ghana.
'We must also bring the awareness in the farming communities that aflatoxin safe products are better than others to change their way of doing things,' she added.
Professor Alex Dodoo, Chief Executive Office, Ghana Standard Authority, said there is lot of maize in quantity but not in quality and stressed the need to start talking to the farmers about 'money because marketing aspect is equally important'.
'Let's move away from the talk and move into action to set records straight. If exported crops do not meet the international standards, the exporter would not only loose but will disgrace the country as well and thereby make it difficult for others to do trade with the country,' he added.
He, therefore, pledged the GSA preparedness to continue to enforce standards and called for collaboration from the public, adding that their doors are opened to farmer groups to assist them meet the standards.
Prof Dodoo said Ghana Beyond Aid is a technology driven and 'we need to change our mind set to meet the desired results.
Mr Sammuel Sey, President of Masara Farmers Association, said the association had over 10,000 farmers in the three Northern regions and are well-placed to carry the message to the other farmers in those regions.
He said farmers would have price premium to sustain the interest in Aflasafe GH02.
Mr Eramus Eshun, Direct of Agriculture Development and Productivity, Ghana Export Promotion Authority (GEPA), said there should be incentives to those who would apply the product on their farm.
He said IITA should have a capacity to monitor activities on the farms and provide harvesters and dryers to enable farmers get aflatoxin free crops.
GNA
By Patience Gbeze/ William Fiabu, GNA