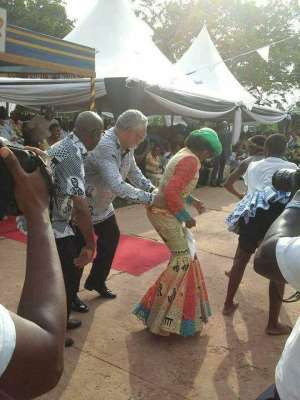 Rawlings Dancing with wife
I write this with all the sincerity and objectivity, I hate no one. I am going to step on toes but I feel I should free myself from this raging guilt. Sorry if you are going to be a victim. This is just my side of the story, it may not take premise from your beliefs or thoughts, so just accept this as an accumulation of my opinions. It's lengthy though, so make your choice first.
The politics of Ghana has moved from inches to heights. Leaders came and left as the rolling system gets cleaned up with popular participation across political parties and governments. Politics has moved from hard copies of the print papers, from the usual screens of National TV stations, from the only Radio Ghana in the villages to a very sophisticated social media which makes it difficult for politicians to sidestep the proletariat as they engage in national discourse.
The fourth Republic of Ghana came on the back of HE Jerry John Rawlings who came to change the political dynamics of Ghana. Rawlings was mentioned across Africa as one such a person who emerged from amongst the ordinary without any traceable family name of political clout, to clean the system from the incessant bloodshed which became the only means to political survival. This was what gained Rawlings that image which finally metamorphosed into some political charisma.
Rawlings remained relevant from the use of the gun to rule to the use of dialogue. From military to a civilian president is such a strange mix of leadership which is scarce across the globe. Rawlings was the Messiah and his seeming stance for transparency gave him that looks of a saint. This was Rawlings and nobody can take that away from him.
The politics of P/NDC was written and given light with the name and sweat of JJ although others played very key roles in getting the pieces together as a unit. Except a few who were self-made but only needed some political space to contribute their quota, JJ made the rest of the current breed of political actors in NDC. Some were/are made by those Rawlings made in the 90s as a President. Rawlings became a philosophy, a reference point and standard measure for incorruptible leadership.
The 2000 general election came to test the true spirit of nationalism in the hearts of Rawlings and his lieutenants who made his reign possible. The whole world watched with their eyes very much opened. Were we going to see for the first time the change of power from one civilian government to another? It happened and Rawlings was celebrated. He had his issues with the candidate of the NDC whom he personally installed as his successor. All these while, Rawlings never took it light with President Kuffour. President Kuffour was tagged an armed robber. In fact he was likened to a notorious armed robber in Ghana. His diplomatic courtesies were withdrawn at a time Nana Addo was the minister for Foreign Affairs and Regional Integration. That was yet another dimension to the scorn between JJ and JAK/Nana.
All these trying times, Members of the NDC never got tired with defending Rawlings and his family. Moving from courts to National Reconciliation Commission all in the name of defending the Messiah of the NDC (JJ). We never wanted to see Konadu jailed for engaging is broad day thievery according to the NPP.
Time changes they say, indeed it does. All too soon, the wave of Mahama came sweeping the political space in a grand style. Interestingly, in the beginning, JJ made Spio Garbrah, he made Alban Bagbin, made Gbevlo Lartey, Gushie Tanoh, in fact he made the Almighty Martin Amidu (the Latter Day Saint). Mills was handpicked from the lecture hall to the practical political field. So who didn't Rawlings make? But what makes a Father proud is when he can count several of his children who made it using he as their second names.
This whole story started to unfold when Mills had to believe in himself and be his own man. Mills wanted to prove to Ghanaians that when given the chance, he can change the politics of Ghana from the polarized taste into one where we all feel covered under one political unit. Mills thought through this choice and realized he needed an image redemption in order to convince the Ghanaian that he was his own man. JM was baptized again by Mills. This was the beginning of the woes of JM. Why would Mills go against the whims of Yaa Asantewaa (Konadu) of the NDC? Who is Mills? A question they possibly would ask. Mills defied all odds, went against the whims of individuals and got the fine JM to compliment his efforts in bringing the NDC back to power. Rawlings played his part just like that "foot soldier" in Paga, Aflao, Damongo, Bole even in Bantama. NDC party agents were whipped in Asokare, Bantama, Manhyia etc in 2008, but they stood their ground and made the change possible.
After inaugurating the government of the NDC in 2009, nothing was ever done right according the proponents of the Rawlings philosophy. All the bad that ever happened to the NDC even before the coming of Mills were caused by his government. One of his mistakes was declaring Father for all. What did you expect from a man who won power on the oasis of humility and a unifying persona? To declare war against his opponents and arrest them indiscriminately? Were we going to experience the second coming of Rawlings? This was the sharp difference between JJ and Mills/Mahama.
Rawlings suffered an image damage under Kuffour. It's expected because it is politics and not religion. Even Obama is suffering same image damage by Trump who's seen as the World beast who survives on controversy. What we should know is that, Rawlings was/is Rawlings while Mills was Mills. Kuffour was/is Kuffour while Nana is Nana. Their individual beliefs would surely play out when they rule. The people around them would surely influence most of their decisions. The political climate would automatically affect their political actions. At every point, all the above factors never were/are the same.
Mills was attacked from within much more than from without. The NPP had a field day and only waited for an occasion to get their missiles from the founder and his wife to hit back at Mills. That time, Mills and Mahama were the target and not their government. The names were smeared, crucified, dented, maimed and buried in the caves. We thought the attacks were targeted at Mills not knowing the grounds were being set for JM in case he decided to lead, but they knew he was going to lead some day. Even when we were counting hours for Mills to be buried, his name was still being thrown to the dogs. It was only Rawlings who knew what killed Mills even before the autopsy was conducted.
Rawlings was not corrupt, never was corrupted and would never be corrupt. He knew all the reasons why Mills was corrupt. He knew Mahama was born to be corrupt. He knows all the thieves in the NDC then and now. But he made us all and our blood is automatically his. We sin in his name because we use same as our surnames.
The government of JM took all the blames and supposed scandals from Mills. The Suba saga, Woyomegate, GYEEDA brouhaha, SADA guinea fowls were all carry forward. JM was tagged a murderer from the beginning. JM killed Mills and songs were composed and played to the gullible ears. The NPP made this their song in the remotest villages where social media can't operate. People bought into that. JM was a thief and that became the song of some Senior Journalists who knew JM from scratch. NPP hooligans like Horpson Adorye were sponsored to travel across oceans just to throw invectives at JM. JM was called evil and wicked because he had to take the hard decisions in order to get Ghana on the path of economic survival. JM was called incompetent even if a classroom in Upper West Region had some students who studied on the floor. Collective responsibility never had meaning in JMs government, it was all about ultimate responsibility. JM was supposed to be the DCE, the Regional Minister, Sector Ministers, spokespersons, Party communicators, Government communicators and even the policeman who's supposed to effect arrest. Every thorn was Mahama's.
Did Mahama get it all right? Nobody ever got it right. Not Rawlings, Hitler, Nelson Mandela, Kwame Nkrumah, Julius Nyerere, Obama. They all had their nemesis. They had their flaws and weaknesses. JM had his and they surely played a role in getting him his cuts. JM had people around him who never were in for the good of his government, the good of JM himself and that of the future of the NDC. That didn't make every member of his government the proverbial rat. Some of his policies although good in the long run, but given the political climate at the time, he could have decided to delay them for political expediency, yes! That is why it is called politics.
Rawlings brought VAT which was opposed by Nana Addo and his gang. It happens sometimes. JM appointed some self-seeking individuals into sensitive positions. Some of them used their positions to bully NDC members who could make things happen. They left the NPP to have their field day while hunting for the heads of known NDC blood all in the name of wanting to install themselves as political God fathers and King makers. But all these didn't merit the deliberate agenda to pull JM down by JJ, his wife and his cabal (Martin Amidu and his boys).
Rawlings got his lungs opened when it was Mills or Mahama. Rawlings got his energies fixed when the Name Mahama was mentioned in any story. Let's face it, IT IS JMs TIME and nobody can do anything about it. When it was Rawlings' time, he came from the woods to take the center change and wrote the political history within his dictates. When your waves are coming, not even you can control them.
Rawlings had/has the will but his soul is weak simply because his wife wants it so. A woman can indeed make or unmake a man. Rawlings speaks when he's asked to do so. He spoke the voice of Yaa Asantewaa (Konadu). When the good days are coming JJ will extol the virtues of his Yaa Asantewaa (Konadu). She struggled with him in the dark days. Is that a tool enough to crucify the hard won image of JJ?
When FONKAR was formed, Rawlings had to sign it with his wedding ring. Make it happen or we stay in different apartments under the same roof. So FONKAR was formed and used to taunt the NDC. This happened at a time when Nana Konadu was the first vice Chairperson of the party. If not Konadu then nobody else, says Rawlings.
If Rawlings could just control how the wife speaks not even how she thinks, the NDC would have been saved all these embarrassment. A founder of a party has his wife forming another party because she was defeated in an internal election. An election which was forced on the throats of the party. The founder finds it very convenient to attend and address rallies organized by his wife's party but finds it very difficult to attend NDC programs using some flimsy excuses as cover stories. That is our founder. They write and edit scripts for his wife to attack Mahama and the NDC without cease. News headlines were made out of every single attack the rained on Mahama.
So we went to election 2016 with one leg broken. The founder and his family wanted to show how powerful they are and how much influence they still have in the NDC. So while we patched, they scattered. They got one of the confused elders (Martin Amidu) to engage in a side attraction while they do the actual practical damage. Martin Amidu became an anti corruption crusader all of a sudden. But why Martin Amidu? Why will John Mahama be able to do what Martin Amidu couldn't do 18 years ago? Where was John Mahama when he Martin dinned with the founder and the big shots? Mahama was just a mere deputy minister who was still trying to find his voice in the party. So where comes he?
The NDC lost the 2016 elections because Mahama was corrupt, he didn't respect and recognize the founder, because he doesn't know the roots of the party, because he left the core base of the party and decided to operate with a completely strange style, because Mahama was a thief which the Founder abhors, these were the allegations. I concur to some of the claims. Yes! Mahama to a large extent left behind some people who knew the ground very well. Some of those who got closer turned JM into some shrine so that the ordinary member found it difficult to get closer. But you should expect this, because those who would have told Mahama the truth never would be given the opportunity to get closer if not, some others were just about to lose their daily breads. So they were playing a safe game at the expense of the party, government and JM. Greed, selfishness, but these are not strange in politics. That is what makes politics what it is and not some religion with strict rules. It comes with no formula or tested principles.
John Mahama came loud to take the blame for the unfortunate lose and asked all to put the past behind. We commissioned an enquiry into why the NDC lost the elections. Some big names still went behind to manipulate the process just to destroy the JM brand once and for all. In fact some members of the committee had to leak some portions of the report to known senior journalists who have soft spots for the NPP. These was an attempt to sell JM to the NPP. Who doesn't know that JM is the only threat to the NPP today? Who doesn't know that JJ is the biggest threat to the NDC today? He wants his wife back to the NDC through the backdoor. He still want to be in charge meanwhile the NDC has moved from the absolute control of an individual and his family. Those days are far gone and the earlier the founder got this hint the better for him and his family.
Is it really true that Rawlings had some fracas with JMs father in the past? Is it really true that a powerful Malam told Rawlings that the only person who can take his shine away is JM? Rawlings should know that some people hate JM and the NDC in general because of his past. In my land (Gonjaland), the ghost of Rawlings still chases some people because they lost their family heads in a war in 1992/94, which they believe Rawlings played a role. Yes! Some people fear to mention this. Although JM is our son, they still can't defy the oath they swore to their ancestors never to have anything to do with the NDC in their entire lives. This is passed on to generations. They can't hate JM but they do because of Rawlings and his past.
Rawlings tested his influence at the June 4 celebration, 2017 in Wa. He attempted to incite the Northern brothers against each other. The coming of Bagbin couldn't happen out of nothing. Although JM didn't also treat Bagbin well, I still think that alone couldn't cause the rage this much. External factors count and that couldn't pass Rawlings and his cabal. Rawlings also tested the waters with Gushie Tanoh, the response made him to bolt. He tried to cajole all of us to believe that his wife meant well for the party when we had a rally at Ashaiman, people murmured and told him to his face "Enough of your wife", so he dropped that agenda of pushing his wife down our throats.
So what is this nonsense about JM coming late for the 36th Anniversary of the 31st December celebration? That JM came late and that should be announced by Rawlings? They claim he apologized later and corrected what he said earlier? Did that change the sum? This whole nonsense was planned by JJ and his cabal. To test the grounds for the last time, he decided to organize this year's event in Ho. Come ye JM and get a doze of disappointment. Come ye JM and get neglected by the people so that daily guide would get some headlines on Monday. Was the event not organized to show to the NPP that we were all united under the Umbrella? Can anybody tell me one good headline made out of the excellent speech by JM or by the former speaker of parliament or the speech by the Chiefs or even he Rawlings? The attempt by the LOC to cover up this grand agenda of Rawlings to disgrace JM that day was just childish. Rawlings was amazed by the crowd that greeted JMs entry to the program. He was amazed by the natural love that was shown JM by "his people". Rawlings has seen that it is JMs time and he can't change it. The days where the booming shook the tables are gone. Ghanaians are wild awake. The NDC ordinary man can see how much love Rawlings has for Nana Addo. They can see how Rawlings follows Nana Addo around. We are not completely dumb. Mr Rawlings was appointed as the Ambassador of Sanitation for just Greater Accra and he wants the whole world to come crashing. Was this not same appointment he turned down because it was Kuffour and the NPP appointment?
Rawlings couldn't mention the name Nana Addo for 8 running years under Kuffour because he got peeved. Nana was described as that short man by JJ amidst the claim by Yaa Asantewaa that Nana Addo never read law and never was a lawyer. Is this the reason they say politics and for that matter politicians survive on hypocrisy? What has changed? Or is the rumor that JJs son is in courtship with Nana Addo's half daughter true? Or it is just some pure hatred for JM? I don't know which one to believe.
Today Rawlings can't see corruption again. He is dead silent on the broad day robbery of the people's purse. His excuse is that, he can't speak about the thievery in Nana Addo's Government when his party is in tatters. Really! Since when has party took precedence over state per the principles of probity, accountability and social justice.
But this is a lesson to JM. Next time you are given such an opportunity, look well before you take some steps. Check those who com telling you the good stories about themselves and bad of others. Beware of the gossips! Beware of the self-made saints who want to show their love in the open. They will jostle you out of the race when they are done with you. Beware JM!
THIS IS JOHN MAHAMA'S TIME AND NOBODY CAN STOP HIM.