Accra: Starbow Airline Operations Suspended With Immediate Effect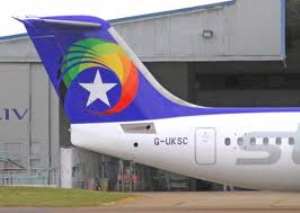 Domestic Airline Company, Starbow has suspended operations with immediate effect. The suspension comes after one of its flights crashed into a fence wall at the Kotoka International Airport Saturday afternoon, in an attempt to take off.
The flight, which was set to take off to Kumasi, skidded off the runway in the direction of the nearby Air-force base, and crashed into the fence.
Five people were treated for minor injuries at the Airport hospital after the incident, according to Starbow.
Some sources who spoke to Starrfmonline.com said the incident might have been caused by the bad weather on Saturday.
"I believe it was bad weather. It began to rain with strong winds just as the plane started to take off. So the pilot aborted and veered off the runway and ended up in a grassy field,"a government official aboard the plane told Starr News, adding nonetheless, "an official investigation will establish the cause though."
In a statement, Starbow said it had suspended all its operations with immediate effect. The Ghana Civil Aviation Authority has also begun investigations into the incident.
Below is the full statement
Starbow S9 104 Incident at Accra, Kotoka International Airport.
Everyone at Starbow wishes to express their sincere regret for the distress experienced by our guests on Flight S9 104 on 25 November 2017 at 12:45, local time.
The service, operated by ATR72-500 (registration 9G-SBF), was a scheduled flight from Accra to Kumasi.
All 65 guests and five crew disembarked, as normal, though five guests were treated for minor injuries at the Airport Clinic. The Ghana Civil Aviation Authority has begun an investigation into the incident.
Eric Antwi, Chief Executive Officer, said: 'All of us at Starbow at this time remain dedicated to our guests, our crew and their families. Their safety and wellbeing are at the heart of everything we do, and we will cooperate fully with the Ghana Civil Aviation Authority, and other agencies, to determine the cause of this incident. We hope to be able to provide further information in due course'.
Starbow has suspended its operations with immediate effect and guests with future reservations are invited to contact the airline at 024 500 0000 to make alternative travel arrangements.