NIB Donates Medical Equipment To Ghana Army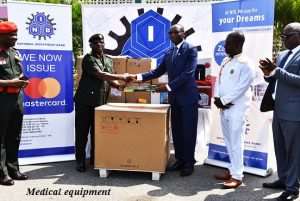 It is a fact of life that, health is wealth. A healthy people are critical to the socio-economic development of any country and Ghana is no exception. Public health is an integral part of the social system.
NIB recognizes that good health is a right for the citizenry and supports the government's mission of providing good health for all at an affordable cost.
NIB further recognizes the promotion of good health as an important part of its corporate social responsibility.
It is in this regard that NIB last Wednesday, June 7, 2017, presented Medical equipment to the Medical Facility of Southern Command of the Ghana Armed Forces at Kpeshie.
The equipment, valued at about GHS87,000 which is to be used at the Kpeshie Medical Facility of the Command include an Urit 300 Haematology and Mind Ray Chemistry Analyser. These Analysers were donated together with a computer and accompanying UPS.
Presenting the equipment on behalf of NIB, the Head of Corporate Affairs, Mr. Charles Wordey, said NIB places importance on supporting the improvement of healthcare delivery in the country. He affirmed the continuous support of such initiatives to improve the health of citizens. He added that the Bank has been collaborating with the Ghana Armed Forces in areas such security and expressed the hope that the existing relationship between the two institutions will be deepened further.
The General Commanding Officer (GCO) of the Southern Command, Brigadier General Thomas Oppong-Peprah lauded NIB for the gesture, saying the presentation of the equipment came as a relief because the Medical facility lacked basic medical equipment to ensure its proper functioning.
The health facility, he added, serves both the Armed Forces and civilians living within the environs of Teshie.
Brigadier General Oppong-Peprah promised to ensure proper maintenance of the equipment.