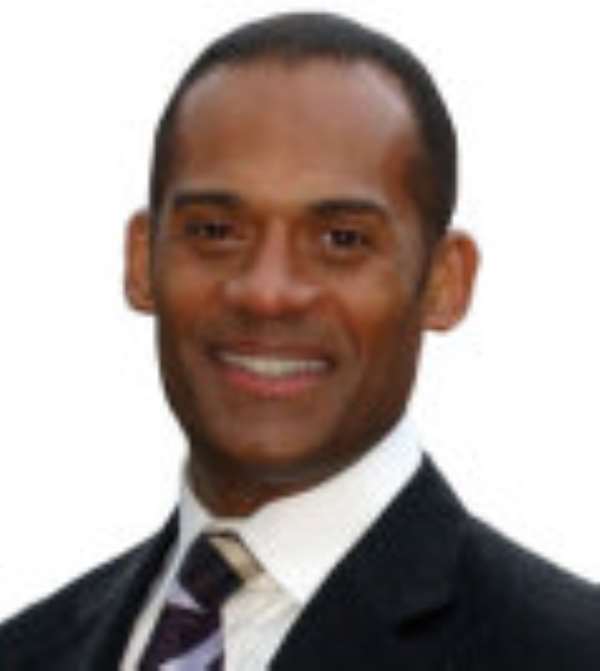 The main opposition party in Britain, the Conservatives, have their first black member of parliament following the general election on Thursday. He's Adam Afriyie, a wealthy businessman whose father came from Ghana. Mr Afriyie won the safe Conservative seat of Windsor with a large majority. He says his first priority will be local issues such as protecting the environment, but he also hopes to be able to restore what he calls a sense of pride in being British. Background Born in Wimbledon in 1965 to a white English mother and a black Ghanaian father, Adam is proud to be British and wants to help restore pride in being British.
He attended Addey & Stanhope Grammar School and gained a BSc in Agricultural Economics from Imperial College (Wye) of London University.
Living in Israel and visiting Egypt, Cyprus, Greece, Holland, Denmark and Sweden in his gap year, his appetitive for travel has not diminished over the years.
Sport has always played an important role. Since captaining the basketball team at University Adam has been a keen distance and charity runner and health and fitness amateur. A typical week will consist of 2 gym sessions and 20-30 miles of running.
Over the last 25 years sports included cycling, tennis, badminton and skiing, but since a knee and foot operation activities have been somewhat restricted.
Business
Adam Afriyie was founding director of Connect Support Services, an IT services company pioneering fixed-price support since 1993. Connect was recognised in the Virgin Sunday Times Fasttrack 100 of Britain's fastest growing private companies in 2002.
He is also Chairman of DeHavilland Information Services plc, a news and information services company, and was a regional finalist in the 2003 Ernst and Young Entrepreneur of the year awards.
Other Appointments include Governor of the Museum of London, Trustee of the Museum in Docklands and a director of Policy Exchange, the centre-right think tank.
Politics
Joining the Party in 1990, Adam is an experienced Conservative activist for many years. During his time he has stuffed enveloped, door knocked and canvassed, surveyed, run supporters clubs, chaired branches and spoken at Conference on several occasions.
During his time as Chairman of Kings Hill Conservatives, they helped win the biggest swing in the country from Liberals to Conservatives in the 2003 local elections. Kings Hill returned 2 Conservative councillors in place of the 2 standing Liberal councillors.