The Forty-Five Million Dollars Lost & Found Is Mine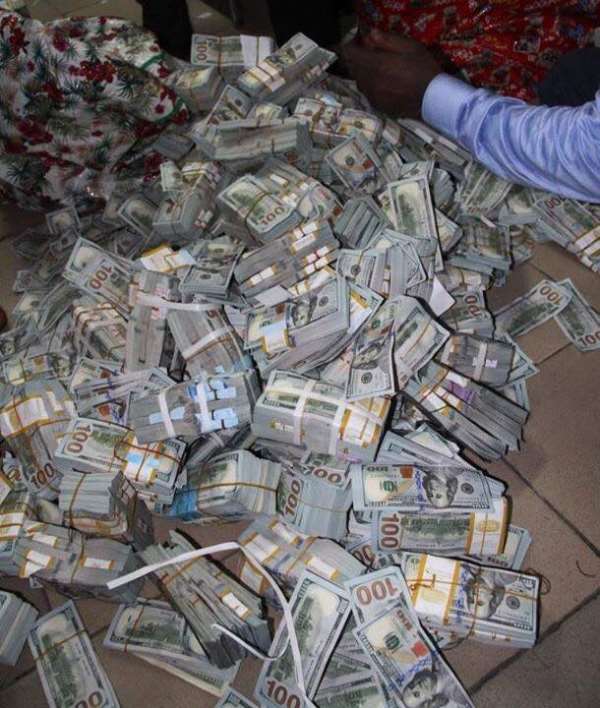 Where else can one hide his money from armed robbers? It is unfortunate that we cannot put money in the bank, at the farm, in the freezer, in a sewage tank and inside our house anymore; without some busy bodies revealing it to Economic and Financial Crime Commission. The forty-five million dollars found in that Ikoyi apartment is mine. It must be returned immediately to me otherwise EFCC will see me in the court of law under democracy and the rule of law.
This money and others that was misplaced came from Ofada Rice business sold all over Africa. If the court can unfreeze Mrs. Patient Jonathan's money, I want the same court under democracy and the rule of law and order to call EFCC to order even before I file my complaint. The only place people like us can get justice is in Nigeria. After all this money has not left the country. Indeed, out of patriotism, the money was kept in Nigeria instead of Dubai.
We have stopped putting money in western countries because of how Ibori, Alamsco and now the beautiful Princess Dezeani is being shadowed by British police. They are very corrupt since they embezzled part of Ibori's loot. Their judicial system took incriminating exhibit, smuggled evidence and testimony from that traitor Nuhu Ribadu to convict Ibori. No fair and just court adhering to the rule of law and justice would do that in Nigeria. No be joke A dey joke O!
Justice Ademola must preside over my case when filed in court. The honorable Judge of high pedigree understands the high handedness of Buhari's EFCC and ICPC war on those who earned their raw foreign currencies fair and square. Indeed, the judicial system in Nigeria is one of the best in the whole world. Where else would the Chief Justice of Appeal Court accuse the Chief Justice of Nigeria of miscarriage of justice and influence peddling if not in Nigeria?
People think we forget. It is sad that any politician can hire a crowd to protest for as little as a thousand naira per head. With forty-five millions dollars, anyone can imagine what I would do if I triple that going rate plus ten sachets of rice. My people would Occupy EFCC and ICPC. Some of you do not realize how powerful the masses are until they exhibit and unleash their anger. When EFCC found my money, did they think all that cashistics grew from the cement?
It should be obvious to EFCC that every possible or probable owner of this money has denied anything to do with it. Most of the cash found in unholy places have moved from one agency to another. By the time we ask what happened to all the cash found, they have disappeared. This one must not disappear. Anyone that knows how many billions of grains there are in Ofada Rice will understand that forty –five millions in any currency is a small change.
Some planners were already hired and we were planning how to turn Makoko, Otodo Gbame and Ajegunle into paradise. Most reasonable people know that we have to build low cost housing for the people to move to. This was exactly what we did at Ita-Akanni before we finally get people to move to Suru-lere. $45 million is a drop in the bucket for the implementation of our noble project. Every reasonable person must appeal to EFCC to release the money to me.