Falling Standard Of The English Language: Where Did We Go Wrong?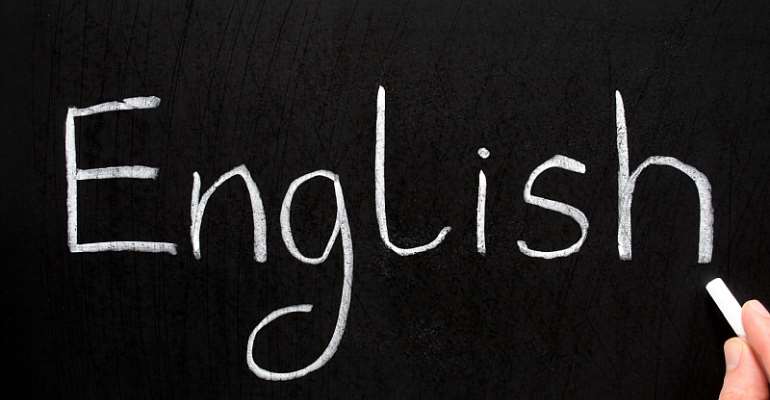 It is quite dismaying to find our school children speak and write all manner of English in the classroom and on our streets, especially in a technological age when these children have access to all the facilities and gadgets they need to enhance their acquisition of the language. Those of us with strong legs have already climbed the Atwea Mountains to question Heaven, all in a fervid attempt at finding out the forbidden fruit these children swallow from the womb, which takes a heavy toll on their Language Acquisition Device when they eventually land here. While we patiently wait for Heaven to serve us with answers, we may want to engage our heads with a careful diagnosis of the situation.
Not to press the blame button and start pointing accusing fingers at people, I think the attitude of parents who still hold the view that the English Language be substituted with one of our local languages as a medium of instruction in our schools is one of the major causes of the falling standard of the language. Over the years, the actions of these local language preachers have been overlooked, but this, on a more serious note, has had a massive negative impact on our children's effective acquisition and use of the language. Children who pay attention to the ill-advice from these parents have already bought into their stance and are beginning to feel the English Language is an alien subject, hence their lackadaisical attitude towards it.
Another serious issue we need to critically examine is the sort of teachers recruited by both public and private schools to handle the subject. The Ghana Education Service is the worst offender here. Is shortage of teachers in the system so acute that, teachers who are absolutely nescient of the English Language be deployed to handle the subject in our schools? Hitherto, private schools were not guilty of this offence, but in recent times, desperate quest for cheap labour has compelled owners of some private institutions to resort to the many graduates who, out of hunger, are parading themselves as English Language teachers on the labour market.
Closely related to the above problem is our English teachers' approach to the teaching of the subject. I don't know when the English Language was reduced to dictation or comprehension at the expense of the other aspects. The nature of the Language requires that, a tutor devices pedagogical strategies to ensure all aspects of the language are given equal attention. But what do we see? A niece in a private school which I will not mention for fear of ending up in court, practically cries of getting tired of the incessant dictation exercises their English Language teacher pours on them anytime they have an English lesson. Some students, even as at form three, are yet to explore other areas as Grammar and Literature. It has been comprehension throughout.
Then again, the 'mushroom' English Language pamphlets and textbooks that have flooded our bookshops also have a part of the blame to carry. The grave grammatical, spelling and factual errors in some of these books cannot be pardoned. The Ghana Education Service needs to take a second look at how some of these books get the approbation to be used in our classrooms.
I can't conclude this story without descending heavily on social media and the shorthand curse it has brought on our school children. It's heartbreaking to see our children extend their shorthand skills to the classroom and display them in their exercise books. Someone needs to remind our children that, 'illegal' words such as 'luv', 'thnx', 'hrt', 'gud' and those have you, belong to social media and should remain there.
And to those of us who still stand by our position that the English Language be shown the red card, it's high time we gave this illusion a befitting burial and encouraged our children to accord the language all the staidness and attention it deserves.
Jet Alan.