"Criminal" Rawlings Is A "Walking Contradiction"! - Kabila Fires Back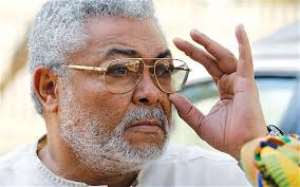 Former President Jerry John Rawlings
A Special Aide to the Flagbearer of the Convention People's Party (CPP), James Kwabena Bomfeh, has fired back at Ex-President John Jerry Rawlings for tagging followers of Ghana's first President, Dr Kwame Nkrumah as "Criminals" and "dumb".
Nkrumahists are people who subscribe to the ideals and principles of Ghana's first President Kwame Nkrumah. Late President John Mills, who served as Mr Rawlings' vice president before becoming a president himself in 2009, was one such Nkrumahist. In Mr Rawlings' view, however, such Nkrumahists have been a disappointment to the country, since, according to him, they have veered off Nkrumah's principles.
Buttressing his point, Mr Rawlings said the late President Mills was "disappointing" and "shallow", adding that he failed to take advantage of his presidency to correct some of the ills perpetrated by politicians.
"We did everything possible to lift up this country and that's why people kept wishing we were back. But as soon as we handed over, the guy turned the wheels 180 degrees. Some of the most outrageous things were happening. I remember trying to tell Mills and giving him details about some of the issues, but it surprised me though that for a brilliant man like him, he couldn't see. He was so shallow.
"Crime perpetuates itself if you don't deal with it, and how Mills couldn't see through this is something I couldn't understand," Mr Rawlings lamented, adding: "But our brother Mills had been so badly persuaded. As he put it to me, he had been advised to let things be and the money will flow. Mills was disappointing. Some of your so-called intellectual creatures are dumb."
But clearly not happy with former military ruler and Founder of the ruling National Democratic Congress (NDC)'s remarks, Kabila, as the CPP activist is affectionately called, in a sharp riposte rather described Mr Rawlings as a "criminal" and "coup maker".
"Someone like Rawlings will never let Ghana progress. The man is a criminal and a coup maker. He overthrew Liman's government. This criminal [referring to Rawlings] is a walking contradiction. That is what I will tell him," he furiously said in an interview with NEAT FM's morning show dubbed Ghana Montie.
FLASHBACK....What Rawlings said about Nkrumahists
The former president, at a recent meeting (a day before African Union Day) with a delegation from the Association of Cuban Trained Ghanaian Professionals at his residence, described Nkrumahists as "criminals".
"Can you believe that those of us (we don't even regard ourselves as Nkrumahists) those, who call themselves Nkrumahists, are the worst offenders – criminals; from Mills till now, not even one single policy resembles anything Nkrumah stood for or believed in," Mr Rawlings said.
Mr Rawlings also said the country has deteriorated. "We are worst today than we were before," he said.
"You know we did our bit from the 80s. In 1979, we had no choice; people were angry and it was a time of rage. We had to handover, but then we had to come back in '81 or '82. We could have stayed on for another eight or sixteen just to work to consolidate situations very well and proper. And I made a suggestion to my colleagues that considering that people are becoming saturated with us or with me, let me let Justice Annan takeover and I can be his number 2 or step aside.
"...He can serve four years or eight years then I could come back and that will be sixteen years of consolidation because what we had noticed was that his characters will destroy anything and everything, so let's not allow it. Some of my comrades said no and that it's never been done before. Is that not what Putin did recently? We would have been the first to do it here.
"...That would have helped to consolidate, because quite often, we make reference to institutions, but the institutions rely on the human factor and if those human entities are not bold enough to defy that which is wrong that institution will be weak; am I lying?" he asked.