Ghana Is Worse Today; So-Called Nkrumahists Just Criminals – Rawlings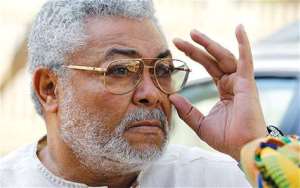 Former President, Jerry John Rawlings, has descended heavily on the country's leaders saying they have done nothing to improve the living conditions of Ghanaians.
According to him, those claiming to be living the ideals of the country's first President Dr. Kwame Nkrumah, are doing the opposite of what he stood for, calling such people criminals.
The former President ranted in anger while he was addressing a delegation from the Association of Cuban Trained Ghanaian Professionals at his residence on Tuesday.
According to Mr. Rawlings, even though the country has good policies and strong institutions to drive the prosperity of its people, the current leaders have rather worsened their plight.
Mr. Rawlings however defended his 1979 coup.
"We are worst today than we were before. You know we did out bit from the 80s. In 1979, we had no choice; people were angry and it was a time of rage. We had to handover but then we had to come back again in 81 or 82. We could have stayed on for another eight or sixteen just to work to consolidate situations very well and proper. And I made a suggestion to my colleagues that considering that people are becoming saturated with us or with me, let me let Justice Annan takeover and I can be his number 2 or step aside. He can serve four years or eight years then I could come back; and that will be sixteen years of consolidation because what we had noticed was that his characters will destroy anything and everything so let's not allow it."
He continued, "Some of my comrades said no and that it's never been done before. Is that not what Putin did recently? We would have been the first to do it here. That would have helped to consolidate because quote often we make reference to institutions but the institutions rely on the human factor and if those human entities are not bold enough to defy that which is wrong, that institution will be weak; am I lying?" he asked.
So-called Nkrumahists are criminals
"Can you believe that those of us, we don't even regard ourselves as Nkrumahists. Those who call themselves Nkrumahists are the worst offenders; criminals. From Mills till now, not even one single policy resembles anything Nkrumah stood for or believed in.
The Former President explained again why he thinks the late President John Evans Atta Mills was a disappointment as a president.
"We did everything possible to lift up this country and that's why people kept wishing we were back. But as soon as we handed over; the guy turned the wheels one 180 degrees. Some of the most outrageous things were happening. I remember trying to tell M ills and giving him details about some of the issues but it surprised me though that for a brilliant man like him, [Mills] he couldn't see. He was so shallow. Crime perpetuates itself if you don't deal with it, and how Mills couldn't see through this is something I couldn't understand. It was so bad that even who had been misused to jail innocent people some in Ghana, some in Ivory Coast were on standby to escape and this as we were approaching the 2008 elections. But our brother Mils had been so badly persuaded. As he put it to me, he had been advised to let things be and the money will flow. Mills was disappointing. Some of your so-called intellectual creatures are dumb," he concluded.