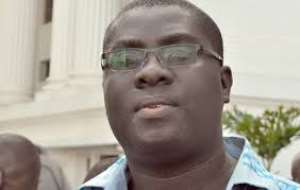 Sammy Awuku
The National Youth Organizer of the opposition New Patriotic Party (NPP), Sammy Awuku, has defended the party's running mate, Dr. Mahamudu Bawumia over his claims that the presidency is biased against Muslims.
According to Mr. Awuku, those criticizing Dr. Bawumia are being too "hypocritical" since to him, "religion has a role to play in our politics."
Dr. Bawumia while addressing NPP supporters in the Sissala East District of the Upper West Region, suggested that the Flagstaff House is not balanced enough to reflect Muslims and Christians, which are the two main religions in the country.
He stated that the NPP administration is always concerned about religious balance particularly in the selection its flagbearers and running mates.
His comments have been widely condemned by a section of Ghanaians while the National Peace Council, Rev. Prof. Emmanuel Asante has lambasted Dr. Bawumia describing his comments as "unfortunate."
But Sammy Awuku in a Citi News interview said he sees nothing wrong with what Dr. Bawumia said.
"I do not feel offended by what Dr. Bawumia said. People are just being hypocritical on this Dr. Bawumia matter. What Dr. Bawumia said was that our diversity should manifest at every stage of our economy, every stage of our governance system. In our constitution it talks about ethnic and regional balance in appointments," he added.
Sammy Awuku further argued that what Dr. Bawumia sought to do was to explain that "when it comes to balance at the seat of government religious-wise there seems to be some kind of imbalance."
"…And if as a country we have Christians and Muslims living in it and he is only praying that just as it existed under the NPP administration…the combine effects of these two religious groups and two gentlemen and the team put together took Ghana from a HIPC-riddled economy to a middle income bracket lower. Religion has a role to play in our politics," he argued.
Don't compare Bawumia's comments to Attivor Sammy
Awuku further urged Ghanaians not to compare Dr. Bawumia's comments to that of former Transport Minister, Dzifa Attivor.
Dzifa Attivor was recently bashed by the public for urging NDC supporters to retain the party in power to prevent her and the current Transport Minister, Fiifi Kwetey from being jailed under an NPP government simply because they are Ewes.
"You cannot compare what Dr. Bawumia said to that of Dzifa Attivor," he argued.