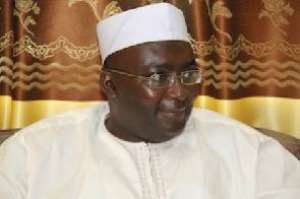 I have listened to the audio whose content has become a subject of discussion on several platforms.
My view is that there is absolutely nothing wrong with what Dr Bawumia said. Perhaps what is wrong is the infantile twisting,slanting, misrepresentation and gross misapplication of what he said by those who have other motives.
He stated what is indisputably a matter of fact. He said the NPP ticket is made up of a Muslim and a Christian and it is a fact. He said that when the NPP is elected in November by the will of God, he will take his Oath with the Holy Quran and Nana Addo will do same with the Holy Bible which is a fact.
Is anybody saying he is going to take the vice Presidential Oath with ' Antoa Nyamah? Dr Bawumia can not be responsible for the twisting and slanting that anyone or group has decided to attribute to what he said. I don't think he has any help for such people.
Nowhere did Dr Bawumia advocate for votes or asked Ghanaians to vote for the NPP because of the current ticket of the NPP. Indeed he spoke of the very excellent collaboration, cooperation, coordination, topmost tolerance and enviable understanding that has existed between Nana and himself and by extension supporters of the NPP and other bodies and expressed enthusiasm and optimism about how this would inure to Ghana under a Nana/Bawumia ticket. What is wrong with this enthusiasm and optimism?
I have a direct message for the NDC in particular. They should direct their missiles to their irresponsible regional minister who only recently insulted Muslims in the NPP including Alhaji Dr Bawumia.
The NPP must be commended for showing first class tolerance in the wake of several provocations from members of the NDC.
And to Arthur Kennedy , he should be ashamed for joining the misinterpretation metro bus of the NDC. He can do better.
My humble suggestion is that Dr Bawumia shoubld go to all 275 constituencies of Ghana and repeat same message. It is a living example of religious tolerance and cohesion and the NPP must stand by this every step on the way .
Thanks for reading folks. Akilu Sayibu Tamale North