Bawumia's Religious Comments Silly - Kofi Adams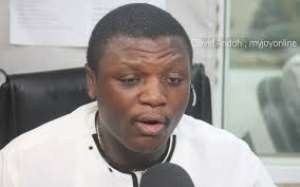 National Organizer of the ruling NDC, Kofi Adams, has described inflammatory comments made by the vice presidential candidate for the New Patriotic Party (NPP), Dr. Mahamudu Bawumia, as silly and barbaric which must be condemned.
According to him, such silly comments shouldn't be allowed in Ghana politics, especially when it's coming from a running mate of the main opposition party who is a learned a Ph.D. holder for that matter.
Why is the NPP and Bawumia in disarray? He asked.
Indeed, the monumental changes and improvements in Muslim communities in this country were initiated by Christians.
The Islamic Education unity which supported Islamic Education was passed when President Mills was President, he added.
He continued that the Hajj trip has seen better organization today under the auspices of John Mahama and Amissah Arthur. So for Dr. Bawumia to make such a comment is rather unfortunate and shouldn't be tolerated at all.
Speaking on Joy FM's Super Morning Show, Kofi Adams stressed that in Ghana's Constitution, there is nowhere stated in law that appointments to public offices should be religiously balanced
In a separate chat with GhanaPoliticsOnline.Com, Mr. Adams said that the former Deputy Governor of the Bank of Ghana is short of campaign messages for Ghanaians and, therefore, resorting to religious politics; "All his economic theories, following President Mahama's Accounting to the People's tour, has been debunked therefore he has no message for Ghanaians in terms of Ghana's economy leading him to resort to these other areas like religion, which will not help him," he indicated.